IN Chinese culture, rabbits are said to be the luckiest among the 12 animals in the zodiac. Aside from bringing luck, this furry creature also symbolizes vigilance, mercy, beauty, and wit.
The forthcoming Year of the Water Rabbit promises to bring prosperity and open new doors for opportunities. 
Since ancient times, the Chinese people have been displaying decorations in celebration of the coming year to ward off evil spirits and invite fortune into their homes.
Aside from putting up bright red decorations, the Chinese also prepare a sumptuous dinner to kick off the beginning of the year.
While they often serve dishes like fish, chicken, rice balls, and noodles, there are also other foods people can enjoy during this special Chinese holiday, including rabbit dishes.
Rabbit is known for the good amount of nutrition it provides including protein, iron, B-vitamins, and Omega-3 fats. Apart from its health benefits, people can also use this alternative meat in multiple dishes such as dumplings, spring rolls, and lechon.
Cainta Rabbitry
Although not as popular as white and red meat, rabbit meat may also be used as an alternative main ingredient for a variety of dishes.
Cainta, Rizal is one of the suppliers of rabbit meat in the country.
Republicasia spoke with one of the municipality's backyard rabbitry owners to give us a walkthrough of how this meat industry works.
The 33-year-old Kenji Reyes started his rabbit farming business in 2018. Although he briefly parked this gig in 2019 due to insufficient capital, he's now back in business with 16 breeders and 30 kits.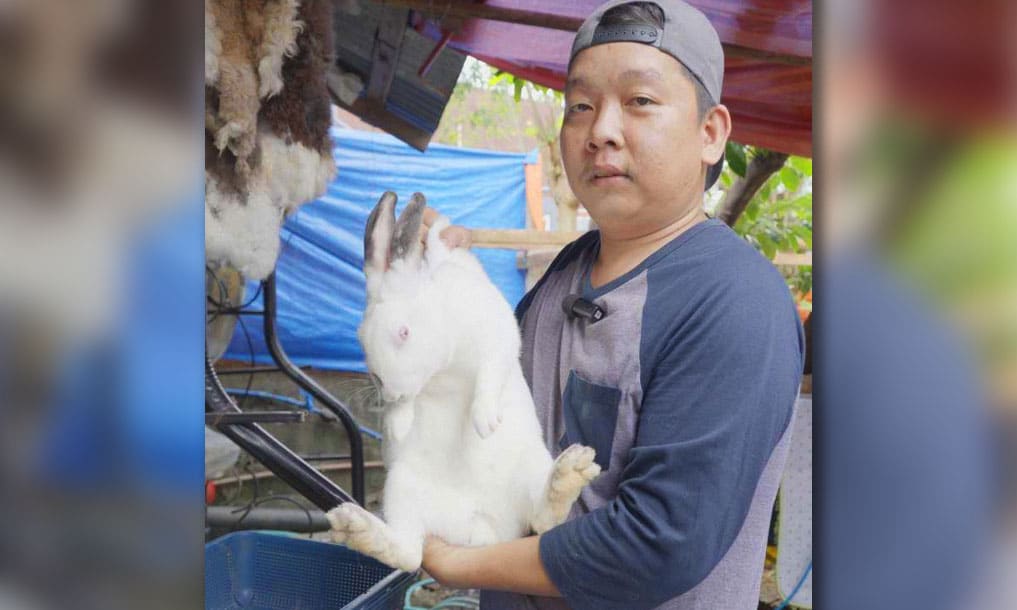 Kenji, who breeds Californian rabbits for their meat, transforms these furry friends into siomai, shanghai, skinless longganisa, and lechon that are well-loved by his customers.
Rabbit meat sells for approximately P450 per kilogram and is ideal for people with hypertension and gym junkies because of its zero calories and high protein content.
Breeding period
It only takes 70 days for rabbits to breed and produce kits. According to Kenji, doe, or female rabbits, give birth to several kittens after 30 days, with another month for lactation. The rabbit's offspring can be separated from their mother one month after their birth.
The ideal age for rabbits that will be used for siomai is around three to four months, six months for shanghai, and four to five months for lechon.
As per Kenji, not all rabbit breeds can be used as alternative meat since others are meant to be raised domestically or in the wild.
The most common rabbit meat breeds include Californian, New Zealand, and Florida White rabbits.
Taste Test
Republicasia visited Kenji's backyard rabbit farm to personally taste the rabbit dishes he offers such as Adobong Rabbit, Rabbit Shanghai, and Rabbit Lechon.
The preparations for these dishes are almost identical to traditional ones, and the taste and texture of the rabbit meat is similar to chicken meat — soft, juicy, and flavorful. You can almost taste no difference!
Aside from these dishes, rabbit meat can also be served as tapa, morcon, embutido, and longganisa.