By Andy Peñafuerte
BEIJING, China – Rowena Bautista is already counting the days until her much-awaited return to the Philippines on January 22.
For nearly three years, the 59-year-old product development manager based in Guangdong Province, and many hundred other overseas Filipino workers (OFWs), stayed put in China as the COVID-19 pandemic raged globally.
Within that period, China held on to its controversial zero-COVID policy with extreme control measures that paralyzed life on the mainland and disrupted the global economy. The Chinese government largely abandoned the policy amid outbreaks of the Omicron variant and nationwide protests in November and December 2022.
When China announced its borders would reopen on January 8, Bautista was overjoyed and immediately booked her flight home to see her elderly mother.
"It was hard to live away for three years from family, especially my mother," Bautista told republicasia.
"I know many Filipino artists who have repeatedly said how badly they want to go home and be with their families. Many other Filipinos previously working in China could not return here [because of restrictions]. And with China's reopening comes their hope that they can come back soon," she said.
Another OFW, who spoke on condition of anonymity, was among the workers who got stranded in the Philippines for more than two years. During this time, he communicated with his Chinese wife and their children through WeChat.
"It was hard for my daughters and me—I wasn't there in the crucial times of the pandemic," he told republicasia. "But we held on as a family because of that hope that we'll be reunited somehow."
The OFW was able to return to China in November 2022, when restrictions were still in full force. His family contracted COVID-19 later during the nationwide surge but recovered eventually.
A "good" year for business
Josee Pang, a long-time OFW and business owner who asked to use a different name, is optimistic about China's reopening. Not only will it mean well for her energy battery enterprise in Shanghai, but it will motivate her employees more.
"Most of my Chinese employees have not gone home for the past two years because of the restrictions," Pang said. "But they can finally see their relatives in the upcoming Spring Festival."
Pang is currently in the Philippines and managing her business in China remotely. And like many other OFWs, Pang looks forward to returning to the mainland soon.
However, she is still wary of China's abrupt reopening.
"I think they [the Chinese government] did not prepare that much, because there are still cases. But overall, the positive impact of the reopening outweighs the potential adverse effects. And as far as my business goes, I think it will be a good year. But I hope people won't get sick anymore," she said.
Making the most out of adversity
For Bautista, her three years in "COVID-era"-China taught her to "make the best out of [the situation]."
"I've learned to take care of myself," she added. "In fact, I became healthier and was able to travel to more places in China during this time."
Bautista also reflected on the success of an educational initiative she launched in 2020, which became larger as the months of distance learning went by. She hired a teacher to deliver online learning modules for the children in their extended family. Later, the sessions included children in their neighborhood and continued for two years, but were discontinued following the return to face-to-face instruction.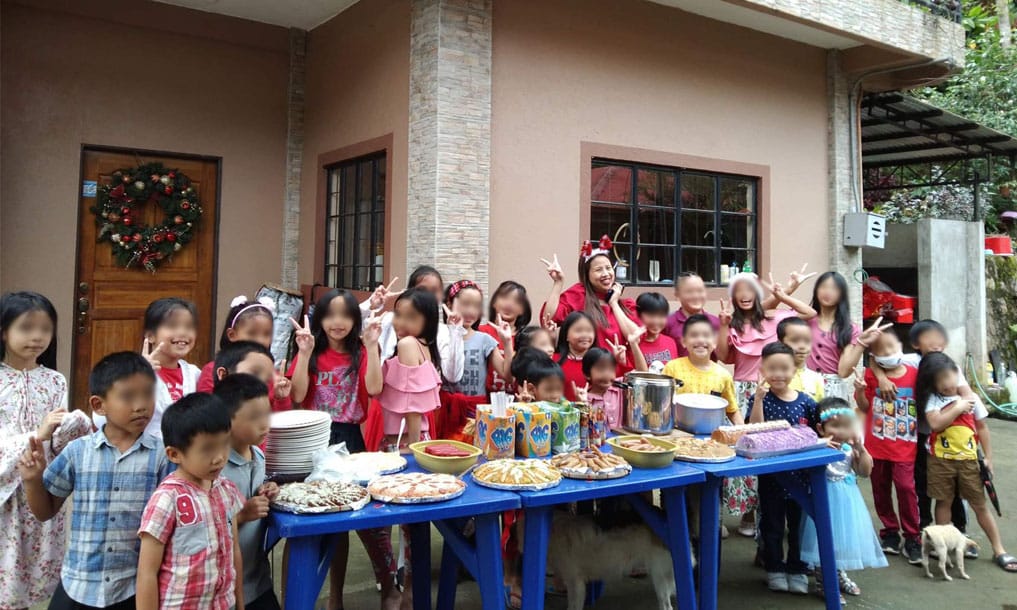 Children who participated in Bautista's educational initiative celebrated a Christmas party in December 2021
"The children are happy to know that 'Santa' will come home," Bautista said, adding that some students come from different barangays.
"If given a chance, I'd like to continue helping children. It gave me a different kind of fulfillment. And after all, [doing this initiative] was worth it."
Banner photo caption: Bautista (third from right), and other OFWs in Guangdong celebrated two birthdays and Thanksgiving in November 2022.