IN a deleted Facebook post, Jose Rizal University's forward John Amores apologized to the players of De La Salle-College of St. Benilde for losing his cool and throwing punches during their NCAA game Tuesday night at FilOil Flying V Arena in San Juan.
What Amores posted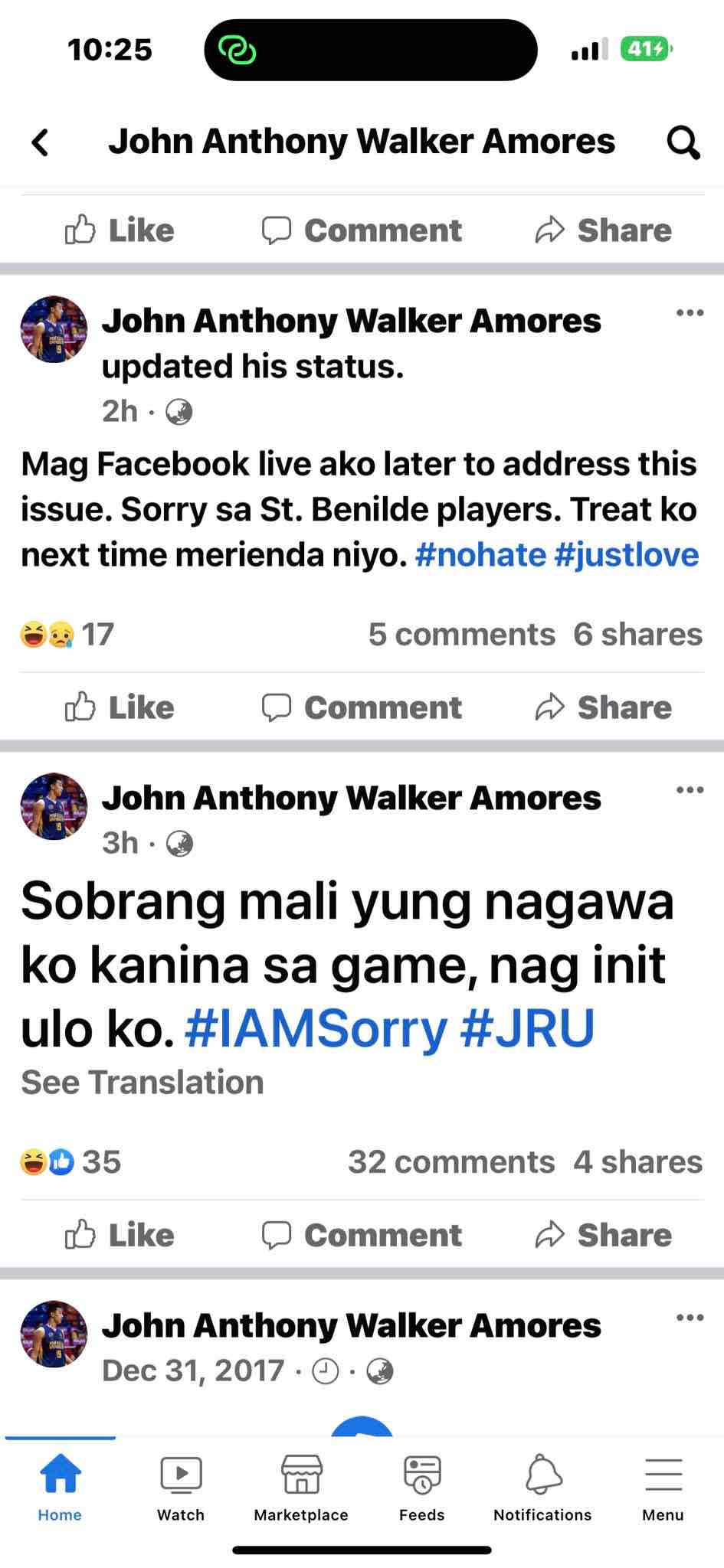 "Sobrang mali yung nagawa ko kanina sa game, nag init ulo ko. #IAMSorry #JRU," Amores said in his personal Facebook account.
"Mag Facebook live ako later to address this issue. Sorry sa St. Benilde players. Treat ko next time merienda niyo. #nohate #justlove," he posted an hour later.
Amores took down all his posts in Facebook but netizens were able to screenshot his posts and reposted it on Twitter.
What's driving the news
The video of the basketball match between CSB and JRU posted by GMA Sports in their Youtube and Facebook accounts went viral last night.
Based on the video, Heavy Bombers' Amores surged through the CSB bench and threw punches at three Blazer's players — Mark Sango, Jimboy Pasturan and Taine Davis. It is not known what exactly triggered Amores to lose his cool.
Minutes prior to this, at 3:22 mark of the fourth quarter, Amores and CSB's Chris Flores were seen down on the floor. This happened after CSB's Miguel Ocson hit a triple. Amores was apparently miffed at a referee.
How did NCAA respond to the brawl
NCAA management committee stopped the game. Later, the CSB Blazers was declared the winner, with final score 71-51.
"The NCAA Management Committee has decided to stop the JRU Heavy Bombers vs College of St. Benilde Blazers game to avoid further escalation of untoward incidents and for the safety of the players, coaches, and audience," the coliseum announcer said.
"This is without prejudice to the further investigation that may cause sanctions to players and coaching staff of both teams. Both teams agreed— Mr. Paul Supan and Mr. Dax Castellano — to this decision."
Photos courtesy: GMA Sports Instagram