It's just another manic — rainy and cool– Monday.
The "Christmas feels" in the Philippines is literally being dampened and cooled by three weather systems affecting the country – shear line, northeast monsoon and trough of a low-pressure area.
State weather forecasting agency Pagasa said the trough of the LPA located in Indonesia is bringing cloudy skies, and at times heavy rains, throughout the Visayas and Mindanao.
Shearline, on one hand, may bring heavy rains in the Bicol region and Romblon.
Quezon, Aurora, Cagayan Valley, Apayao, Kalinga, Mt. Province, Ifugao, Oriental Mindoro, Marinduque, Palawan will probably get a lot of showers, too, courtesy of the Northeast Monsoon.
Metro Manila and the rest of Luzon will have generally fair weather with isolated rain showers.
Obet Badrina, weather specialist of Pagasa, said thunderstorms will not be a regular occurrence despite the rains.
"Yun kasi ang katangian kapag may Northeast Monsoon. Kadalasan mga stratified (clouds) po yun, mga mahihinang pag-ulan ang dala at wala masyadong pagkidlat at pagkulog," Badrina explained.
Temperature check
"Napapansin nyo na po na medyo lumalamig na ang temperatura natin? At nakikita po natin na medyo bumababa dahil sa pag-iral ng Northeast Monsoon – ito yung malamig na hangin na galing sa hilagang bahagi ng ating bansa," Badrina said.
Yesterday, Basco, Batanes experienced 14.4°C, the coldest temperature recorded yesterday.
Baguio City is becoming a bit cooler again at 16.4°C. Badrina said it is likely that the temperature will further drop to 14°C today.
Meanwhile, Malaybalay in Bukidnon was the coolest province in Mindanao at 18.8°C yesterday. Tuguegarao City is expected to register a low of 19°C today.
San Jose in Occidental Mindoro registered the hottest temperature yesterday at 34.8°C. Zamboanga City's mercury was at its peak around noon at 33.6°C.
Metro Manila, which usually gets a warm 32°C may get a breather at 24-30°C. Tagaytay, of course, will be a lot cooler at 22-28°C.
Gale warning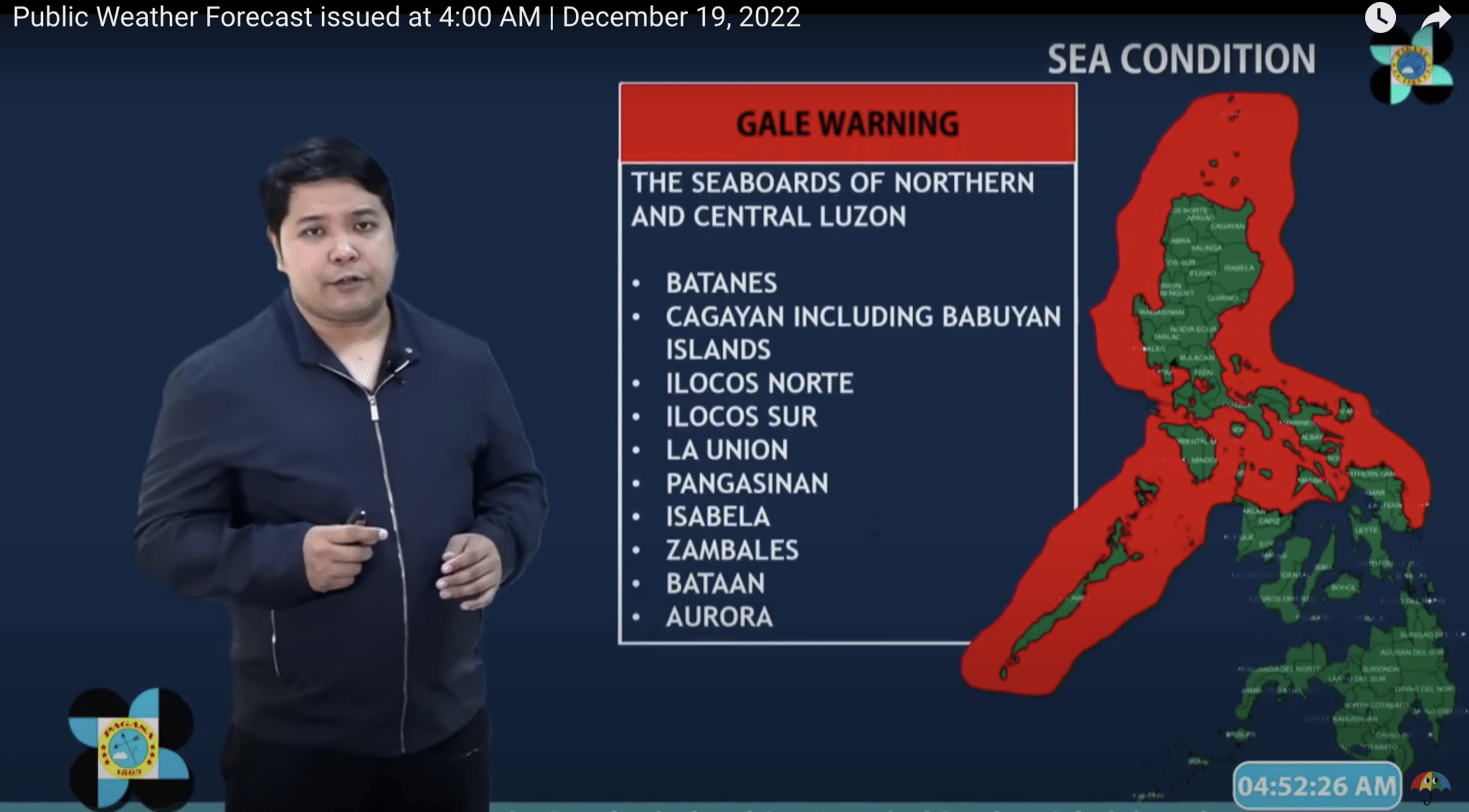 Sea conditions off the coastal waters in almost the entire archipelago will be rough to very rough, Pagasa said. Waves could go as high as 6.5 meters or equivalent to a two-story building.
Bad news again for small-time fishermen who are using small boats.
"Sa mga lugar na yan, magiging delikado po ang pagpalaot lalong lalo na ang mga maliliit na bangka. Kaya nga ho nakikiusap kami na umiwasan pumalaot ang mga maliliit na bangka. Inaasahang magpapatuloy po ito sa mga susunod na araw dahil inaasahang lalakas ang northeast monsoon o hanging amihan," Badrina said.
Visayas dayalekto
Ang tibook Visayas makasinati ug madag-umon na kalangitan inubanan sa mga katag-katag na mga pag-ulan, pagpangilat ug pagpanugdog tungod sa Shear Line / Trough sa LPA. Ang Palawan lakip na ang Kalayaan Islands, ug ang Occidental Mindoro makasinati ug madag-umon na kalangitan na naay mga pag-ulan tungod sa Amihan.
Kasarangan ngadto sa kusog na hangin nga gikan sa Amihanang-silangan ngadto sa Silangan ang mupasulabi sa Visayas, Palawan lakip na ang Kalayaan Islands, ug sa Occidental Mindoro diin ang kadagatan adunay kasarangan ngadto sa baluron ang kahimtang.
Mindanao dayalekto
Ang Mindanao makasinati sa mapananuron nga kalangitan inubanan sa katag-katag nga pag-ulan ug panalugdog tungod sa Shear Line / Trough of LPA. Hinay ngadto na sa kasarangan nga hangin nga magagikan sa amihanang silangang ngadto na sa amihanang direksyon ug hapsay ngadto na sa kasarangan ang pagbalud sa kadagatan.
screenshot from Pagasa Youtube channel