SEOUL—As with most things old, Gyeongju makes you think of time, and how much of it passes unnoticed until there is little left, our lives marked by random recollections.
But unlike us, this ancient place has a long, well-preserved memory. The city, which lies 370 km south of Seoul, in the North Gyeongsang province, has the greatest number of World Heritage Sites in South Korea.
Known as the museum without walls, Gyeongju is often offered as a day trip from Busan or an overnight excursion from Seoul. But it is impossible to squeeze in a thousand years of history in a day, or even a week. How do you navigate a city whose (nearly) entire area, including the Namsan Mountain, is listed as a UNESCO World Heritage Site?
Itinerary options
To help out, Gyeongju Tourism has itineraries for all kinds of travelers: 1-3 day courses; UNESCO World Cultural Heritage course; cycling and driving courses "that refresh the eyes and mind"; "photo zone spots to complete your lifetime photos"; and "moonlit spots for night walks." All of them present practical ways to discover the history and culture of the Silla dynasty (57 B.C.–935 A.D.), which ruled from Gyeongju and ushered in the golden age of Korean civilization.
But I was not sure which kind of traveler I was. A photographer? A history seeker? A nostalgic guest, back after 19 years? All I knew, as I stepped out of the train on a rainy October, was that the seasons—mine and Gyeongju's—were changing.
For a place steeped in history, Gyeongju does not feel out of touch with the present, if you judge by the number of Starbucks and branded shops. More hotels have popped up, catering to some 8 million annual visitors (pre-pandemic). I stayed at the Gyeongju Bonghwang Mansion (KRW 60,000/night),a well-equipped hostel downtown that opened in 2020. From there,you can walk 300 meters to the Daereungwon Ancient Tomb Complex, which hosts 30 of over 150 tombs of Silla's nobility.
Visitors at ancient tombs
Historic sights
In the morning, you can enjoy free breakfast at the hostel's lounge with a view of the Bonghwangdae tomb, the largest of the Silla tombs (nothing like having coffee with dead royalty). For DIY travelers, make your base downtown because four of the five districts comprising the UNESCO-listed Gyeongju Historic Areas—Wolseong, Hwangryongsa, Daereungwon and Bomun Tourist Complex—are accessible by walking or taking public buses. The fifth district, Namsan, is best explored on a tour bus, unless you don't mind hiking the 8.8 km trail through the mountain's important spots (don't forget the walk back as there are no buses or taxis up there).
The Daereungwon complex is more a like a park for locals than a historic site, until you see people entering the Cheonmachong tomb, the only one open to the public that houses the biggest gold crown unearthed from the tombs. Strangely, the longest queue is not for this relic but for the spot with a magnolia tree behind the Hwangnamdaecheong tomb, where couples—some wearing hanbok rented from shops around the complex—come prepared with a tripod. This is an obligatory Gyeongju photo-op and must not be missed, even if traveling solo.
Strolling past the pink muhlies, you will find the Cheomseongdae Observatory standing in the same place since the time of Queen Seondeok—the oldest surviving observatory in Asia; the 2,000-year-old Gyerim Forest, where Kim Al-ji, great ruler of Gyeongju, was found and adopted by King Talhe, according to legend; and the Donggung Palace and Wolji Pond, highlights of the night tours, where noble guests used to dine with King Munmu.
The Wolji pond at night
For hungry travelers, however, there are no fancy pavilions, only outdoor tables across Daereungwon, which offer the perfect spot to people-watch while eating Gyeongju's famous eggroll. Coming from Seoul, I liked the pace of life here: kids flew kites, couples held hands, dads pushed strollers, moms chased toddlers. There seemed to be less hurry, more time; less worry, more smiles. There was also a sufficient supply of good coffee.  
Culture and cafes
Bus no. 10 or the Golden Line is your ticket to culture and cafes in Gyeongju. It is not a hop-on, hop-off bus so you pay for every ride, but it runs on a loop and stops at the main historic and cultural attractions. The Gyeongju National Museum, with its vast collection of gold crowns and jewelry, bronze and stone weapons, and Buddha statues, gives a glimpse of Silla's skills and wealth. The museum grounds also host the Divine Bell of King Seongdeok—completed in 771 and hailed as a masterpiece of Silla art—and South Korean chain Ediya Coffee, which has some of the best views in Gyeongju (plus wireless charging stations!). Six stops away on bus no. 10 are the treasures of Tohamsan, Silla's holy mountain: Bulguksa Temple and Seokguram Grotto(accessible only from Bulguksa through bus no. 12). You can't take pictures of the Buddha in Seokguram but the rock-carved Buddhas in Namsan will more than make up for this lost photo-op, if you manage to get on a tour bus.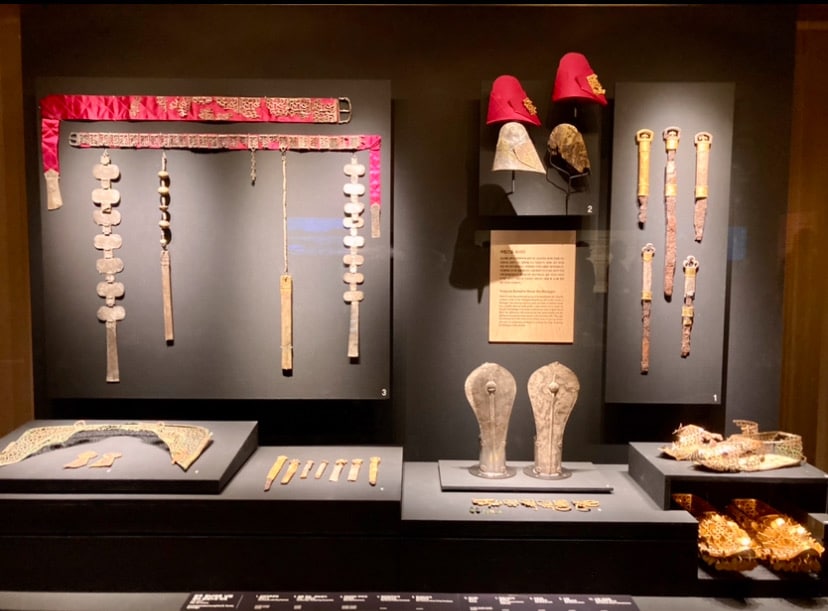 Some of the exhibits at the Gyeongju National Museum
Exploring Namsan could easily take an entire day. According to Gyeongju Tourism, the 2.650 ha. Mount Namsan Belt has 694 cultural heritage sites, including 122 temples. How you can possibly see each one is a mystery to me, but Namsan tours are available with CM Tours or KJ Namsan. Their websites are in Korean so ask your hotel or the nearest tourist booth for assistance.
Of course, you can always save Namsan for another trip, and just spend the rest of the day on Bulguksa shopping street (which really has more restaurants than shops). The boutique Café NaeRyuSa, with its glass walls and indoor pool, serves up a fancy hot mocha with its signature cacao. As I sink into my chair in a quiet corner, coffee in hand, I catch a glimpse of the bus stop across the street and was momentarily jolted by thoughts of being left behind. And then I remembered I was in Gyeongju—I had time.