This is a mantra every hardworking person would want to attain. Who does not want to experience inner peace and personal fulfillment at the same time?
However, integrating work and leisure in this fast-changing competitive world may only come as a dream for many especially when you work and live in the city, where long hours of daily commute and higher cost of living can sometimes take a toll on mental health.
But for long-time digital nomad Orly Darnayla, he found the work-life balance while working in places closer to nature.
" It's important to address mental health issues, because people work so hard, and yet they forget to live," he said.
To cater to the needs of his fellow digital nomads and remote workers, he founded an online platform called "Baybayin Hub" at the height of the pandemic in 2020.
They offer co-working and co-living spaces in different tourist destinations in the Philippines like Cebu, Palawan, Siargao, Bicol, Zambales, La Union and Tagaytay — with a goal of integrating work and leisure.
Equipped with facilities and amenities that a typical office offers, Darnayla said their clients can attend meetings and beat deadlines from a workplace surrounded by enticing sceneries like beautiful beach, blue sky, captivating sunset and beautiful sea view.
"Isipin mo yung co-working space sa Makati, right? Fast internet, lahat ng kailangan nila, meeting rooms, booth rooms meron kami nun sa beach front," he said.
Darnayla said their partner-resorts and hotels have dedicated co-working spaces comfortable enough for remote workers to work. Some of the resorts even offer a common kitchen accessible to everyone, making co-working and co-living set-up more financially sustainable.
He believed it also matters to have a community of like-minded people where everyone in the community can help each other, sharing the same interests and experiences.
He said their platform, which now has 80 partner-resorts, hotel and beach houses, has gone into a movement promoting holistic wellness, slow traveling and sustainable tourism.
"Sometimes, it's sad or lonely if you work alone as a remote worker," he told republicasia.
In Siargao, Pepito's Art Hotel also offers co-working spaces for tourists. But the need to convert their resort to cater to remote workers only came as incidental when lockdown due to pandemic happened in 2020.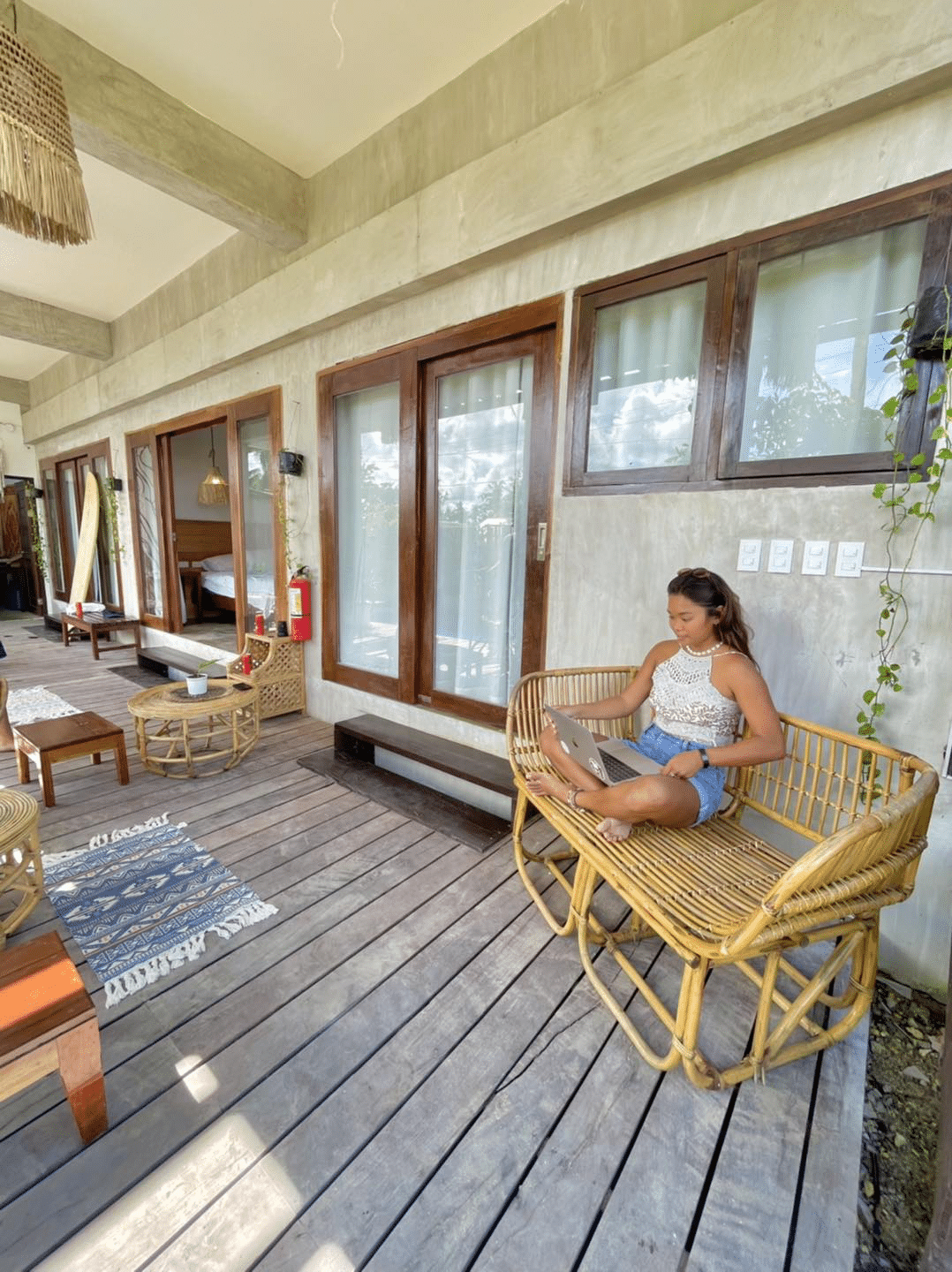 "We adjusted based on the demand of the customers. Lahat sila work from home, so kami parang okay set-up nyo na yung wifi," Kate Evangelista, Pepitos' social media manager said.
She said they have co-working spaces by the pool and by the balcony. They also have a common kitchen near the workstation.
But what really makes co-working spaces in tourist spots appealing?
Darnayla believes it's the working environment.
He said the pandemic made a lot of people realize that it was important to take care of their well-being, including mental health, hence making co-working and co-living in places away from the stresses of urban living all the more relevant.
And despite the easing of restrictions and with the economy now being reopened, Darnayla believed that remote work is here to stay.
Seeing a continuous growth of remote work, both domestic and international, he is envisioning the Philippines to be a destination of choice for digital professionals in Asia.