REMOTE workers and students who still want to get away from their homes have discovered an alternative in coworking spaces in urban areas.
JC Sanchez needed to review for the medical board exams when not on duty at the Quirino Memorial Medical Center, and he found that coffee shops are not always the ideal place to study because of the noise and the competition for seats.
Sanchez is now a regular visitor at a coworking space where he gets a quiet place to read, access to high speed internet, and all the coffee he could drink.
"Honestly, mas maingay pa sa coffee shops kesa dito. Kasi doon uncontrolled ang tao, lahat talaga doon, it's for them to unwind. Here, everybody is working, everybody is focused sa ginagawa nila," Sanchez told republicasia.
A coworking space is where workers from different companies can rent a desk or a temporary office. Students could also use these as study areas.
These provide access to high-speed internet, a desk, an electrical socket, an air-conditioned space, and usually, unlimited free coffee, tea, and water.
Graphic designer Henry Lerpido said he prefers to stay in a coworking space rather than work from home so that he could focus on his tasks.
"Sa bahay kasi madami ang distractions, lalo na ang kama ko. Pag 'andito ako sa [coworking] office, I have no choice but to focus on work," he said.
His bosses in a nutrition supplement company have rented an office in a coworking space to avoid being distracted by their children, and they have found this to be a more efficient set up.
"Pare-pareho kami mas nagiging productive instead of sa coffee shop, medyo magastos, you have to buy coffee or food," he said.
Ghel Lerpido, founder of Openspace, a 24/7 coworking space and study hub near Katipunan in Quezon City, said the pandemic and the work from home situation it brought about allowed his business to attract more customers.
"In a good way, we had the opportunity to convert people and provide the space they need to be more productive compared to working at home," Ghel told republicasia.
There can be a lot of distractions for workers who are at home, with family members suddenly calling their attention and other noises popping up in the middle of online meetings, he noted.
Some of these remote workers had migrated to coffee shops, but he said coworking spaces provide more advantages.
Coffee shops can be noisy if you're having an online meeting, he said.
"You don't have peace of mind to work or to focus," he said.
Staying in a coffee shop can also pressure workers to keep on ordering food or drink to justify their use of the space, he said.
And since coffee shops are places to socialize, they could run into people they know and get caught up in conversations when they would rather be doing their tasks, he said.
There is also no guarantee of a reliable internet connection in coffee shops.
"When you're in a coffee shop, you cannot demand for high speed internet. So kung ano meron sila, pag tiyagaan mo," he said.
Coworking spaces are secure as well, he said.
People can leave their laptops and other things on the table when they get up to get coffee or buy food. They can also be sure that nobody else would take their seat if they leave it for a while, he said.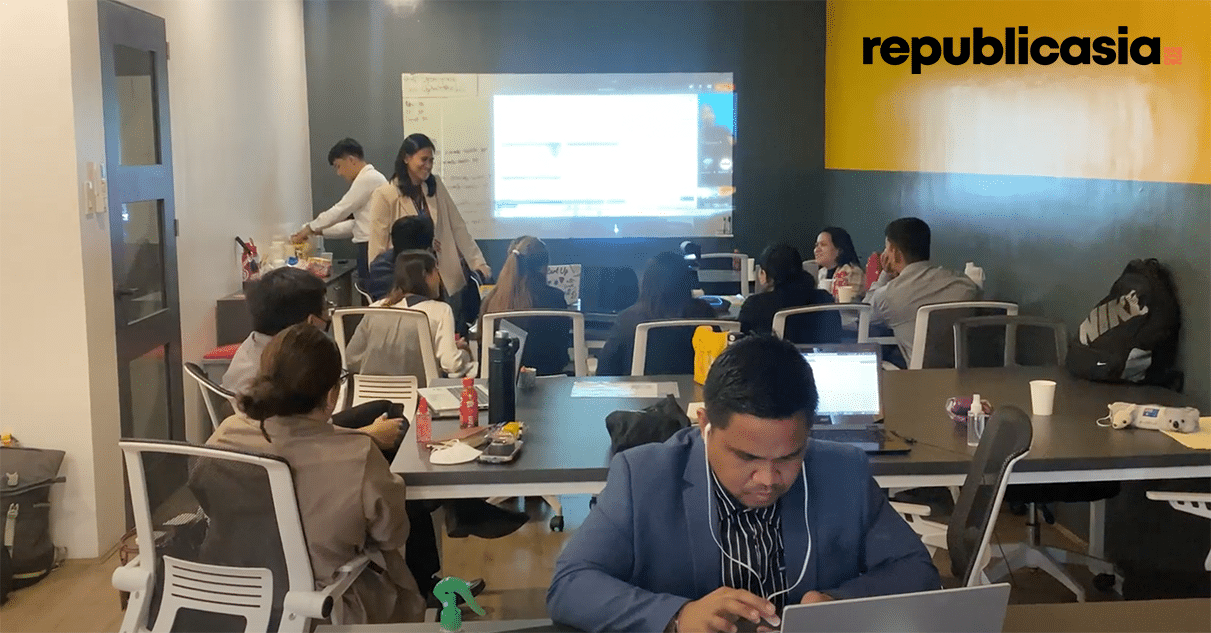 People in coworking spaces can be more productive because they get to focus on their duties. They don't get tempted to stroll in the mall where the coffee shop is located, or to head to their bed, said Ghel.
People also pay to use a coworking space, so they make sure they get value for their money, he said.
"For example, I'm paying for a membership. If hindi mo tatapusin yung gagawin mo, or if you're not going to study, sayang," he said.
Coworking spaces like Openspace offer several options to remote workers.
Customers can rent a desk, a small office, or a large conference room for seminars. They can have these for an hour, a day, a week, a month, a year, or even longer.
Rates for desks can range from P65 per hour to P600 per day, depending on the location and amenities.
In Openspace, there is a vlogging studio aside from the usual work desks and offices, and their rooms can be used to host different kinds of events, said Ghel.
It also serves as a virtual office that helps start ups to register their businesses and use its Quezon City location as their address.
"Maraming nangangailangan ng business address, but they don't have the physical office. We provide the virtual office to them," he said.
According to him, renting a room in a coworking office can be a better set up for small businesses because they don't have to worry about maintenance and utilities as these will be included when they rent a space.
"Why is it sustainable? Number one, having the benefit of not thinking of the maintenance and repairs of offices, the cleanliness, we will take care of these. Number two, nothing to think of about paying bills for wifi, internet, electricity or water," he said.
The location of coworking spaces can be more accessible as well for those who live far from the business districts, he said.
Coworking spaces also open up opportunities for collaboration. In traditional office buildings, companies and workers tend to be isolated from each other, he noted.
In Openspace, there is a community manager who connects clients with other clients, depending on their needs.
"For instance, if they'll be needing customers for connections in terms of marketing, accountancy, business registration, we introduce them to other members of the industry within Openspace," he said.
As more people work remotely due to the changes brought about by the pandemic, Lerpido believes businesses like coworking spaces will stick around in the future.
"Most of the people now are working remotely, so may need tayo sa ganitong klaseng business," he said. "Aside from having that professional space, 'yung convenience ang hahanapin mo."