SEDUCATIVE bodies, captivating beauty, irresistible charm and sensual moves when they hit the stage. Surely, '90s kids remember the supremacy of the Viva Hot Babes.
They graced sexy magazine covers, starred in the most titillating movies, made men drool and women wish to be like them. The girls were practically everybody's fantasy.
Over the years, four batches of Hot Babes would be launched. The original line-up was composed of Maui Taylor, Kayta Santos, Andrea Del Rosario, Jen Rosendahl, Gwen Garci, Myles Hernandez, Kristine Jaca, Sheree, and Hazel Cabrera. Several other members would eventually be introduced such as Zara Lopez, Jaycee Parker, Jennifer Lee, Asia Agcaoili and many others.
The inception of the group in 2003 was the brainchild of Viva's Vicente "Vic" Del Rosario. They were officially launched as Viva Hot Babes when they did the cover of FHM magazine. But it was their daring and controversial cover for Hotstuff magazine that really introduced them to the public.
The group is well remembered for their infectious hits "Bulaklak," "Basketbol" and "Kikay." Audiences would scream in excitement as the girls heated up the stage not only with their sultry performances but also with their sexy outfits.
As some of the girls eventually went on to pursue different career paths, members would be replaced from time to time. After almost two decades, many of their members still enjoy the limelight.
Let's take a trip down memory lane and see where the Viva Hot Babes have been through the years.
Maui Taylor
Photo credit: Maui Anne Taylor Facebook
Dubbed as the original "Hot Babe ng Bayan" and everyone's "crush ng bayan," Maui, or Maureen Anne Tupaz in real life, had an entire generation hooked. From the time she was a teen star in the late '90s until today, the public never lost its obsession over her.
Many say that Maui's innocent looks combined with her bouncy curves were her ultimate selling package.
During her time, Maui starred in some of the most daring films. Among her movies were "Gamitan," "Hibla," "Sex Drive," "Ang Huling Birhen sa Lupa," "Torotot" and "The Taste of Money."
Now, she is 39 and a mother of two boys and still very much visible in showbiz. She is also a certified online superstar.
Katya Santos
Photo credit: Katya Santos Facebook
Of all the members, Katya had the longest stay in showbiz, having started her career as a child star in the '90s. She was among the cast members of the defunct '90s sitcom "Oki Doki Dok" and was a mainstay on ABS-CBN's star-producing youth-oriented show "Ang TV."
As she grew older, she became a teen star who appeared in Kapuso shows such as "Anna Karenina."
Just like Maui, she transitioned from being a teeny bopper to a sexy sensation upon her inclusion in the Hot Babes.
Katya went on to do R-18 movies such as "Sukdulan," "Sex Drive" and "Keka."
She is now a mother to one daughter, Tala. She also continues to be seen on television.
Andrea Del Rosario
Photo credit: Andrea del Rosario Facebook
Another famous member of the group is Andrea who has left a lasting mark in the consciousness of Filipinos. Before her stint with the Viva Hot Babes, Andrea was launched as a member of ABS-CBN's Star Magic Batch 3.
She played minor roles in movies back in the late '90s and became a mainstay in the long-running defunct hit sitcom "Palibhasa Lalaki."
As a Hot Babe, she was mostly remembered for her movie "Lupe." Not long after, Andrea also left the group and focused more on serious roles.
Eventually, she ventured into politics and served as Vice Mayor of Calatagan, Batangas from 2016 to 2019.
After years of hiatus, Andrea returned to showbiz to star in the sexy movie "May-December-January" where she had steamy scenes with young stars Gold Aceron and Kych Minemoto.
Gwen Garci
Photo credit: Gwen Garci Facebook
Also among the most unforgettable girls in the group is Gwen whose real name is Mailee Tallayo. In past interviews, she revealed that it was Boss Vic who gave her her screen name which had a very strong recall.
Aside from her showbiz career, the actress is also busy working in the real estate industry.
She is also very much active online and on social media.
Myles Hernandez
Photo credit: Myles Hernandez Facebook
Myles is also another morena beauty in the group. After her life in showbiz, she ventured into family life and is now a mom of four. She has since settled in Canada where she runs her own salon business.
Kristine Jaca
Photo credit: Kristine Jaca Facebook
Kristine is likewise among the original members of the Viva hot Babes. Just like the others, she also took part in many of the most notable projects of the group. Not much is known, however, about her life after showbiz. But netizens nonetheless still remember her for her beauty and appeal.
Sheree
Photo credit: Sheree Vidal Bautista II Facebook
Sheree or Sheree Vidal Bautista is also one of the most famous members of the group. The actress continues to prove her artistry beyond the confines of the Hot Babes. Aside from being a singer and an actress, she is also making a name as a sexy pole dancer. She is also a skilled painter.
In fact, Sheree had a virtual dance concert called L'Art De Sheree in April 2021.
In past interviews, Sheree revealed that during the height of their group's popularity, she received countless indecent proposals but never accepted one.
Not many know that she is a cousin of former Freestyle vocalist Jinky Vidal.
Hazel Cabrera
Photo credit: Hazel Cabrera Facebook
After her fame with the Hot Babes, Hazel now enjoys a quiet, private life with her family.
9. Zara Lopez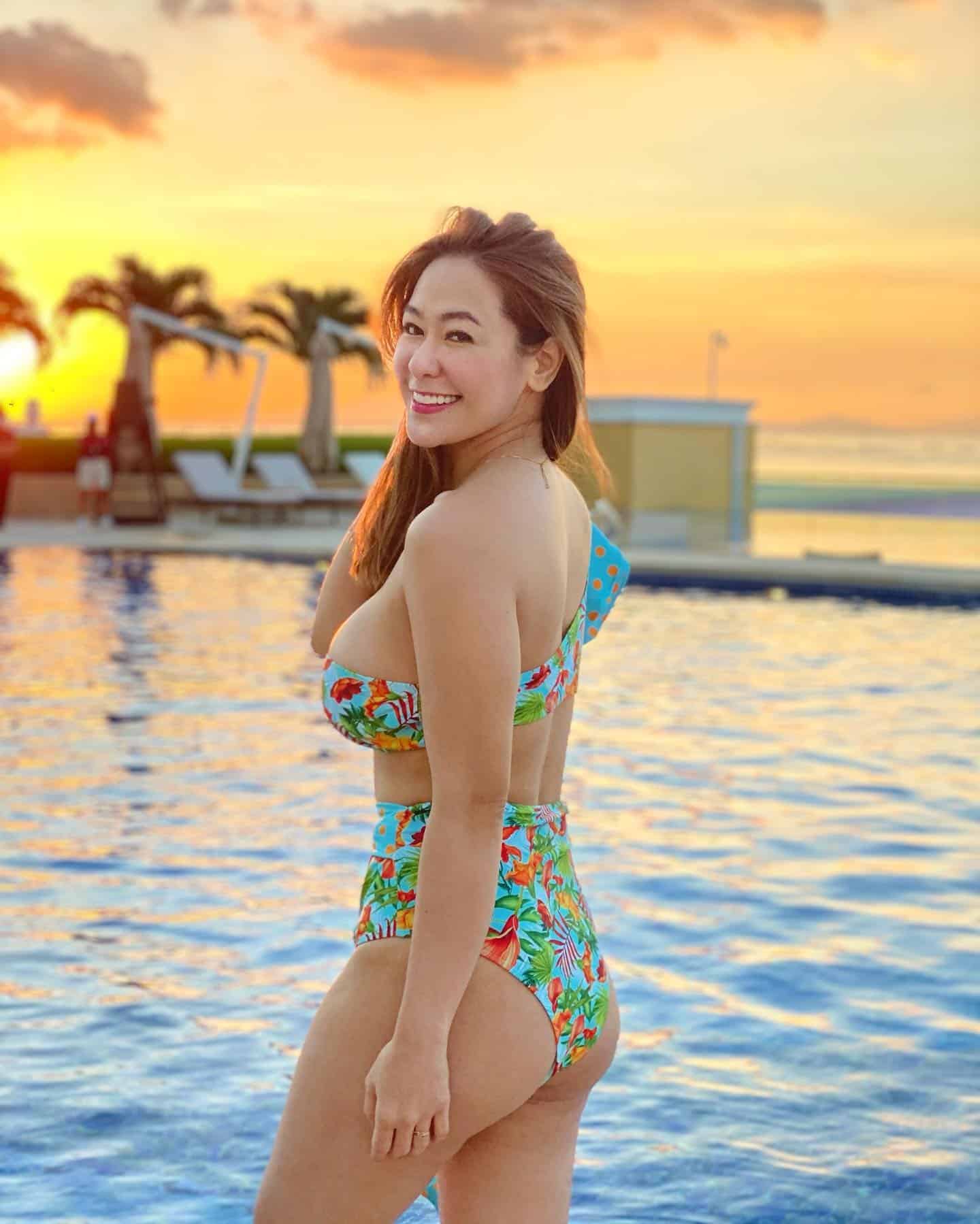 Photo credit: Zara Lopez Facebook
Just like other members of the Hot Babes, Zara also ventured into other disciplines outside of showbiz. She is now a certified entrepreneur with a thriving peanut business. Not only that, the 37-year-old ever youthful mom of 2 is now also engaged to her longtime partner. What's more, she is a certified online superstar with a Tiktok following of over 3.5 million.
10. Jen Rosendahl
Photo credit: Jen Rosendahl Facebook
The Pinay-German beauty is among the stand-outs in the group given her svelte and hourglass figure. After her stint with the Hot Babes, Jen still went on to become a regular on television. She is now also a mother, but men still fantasize over her as just like her contemporaries, she too seems to have found the fountain of youth. She is currently signed with Artist Circle Management Services.
Banner photo credit: Maui Anne Taylor Facebook.