THE University Athletic Association of the Philippines (UAAP) has introduced the people who will be the driving force behind the basketball activities of Season 86, which will begin on September 30.
In a press conference on Wednesday, the UAAP said it would have a new commissioner for basketball tournaments: Xavier Nunag, a former University of the Philippines student-athlete.
Nunag said he hopes to take basketball tournaments to new heights while guaranteeing that this season is fair, energetic, and competitive.
"I am grateful for the continued trust and support of the UAAP. We are committed to making UAAP Season 86 an unforgettable experience for fans, student-athletes, and all stakeholders," the new commissioner stated.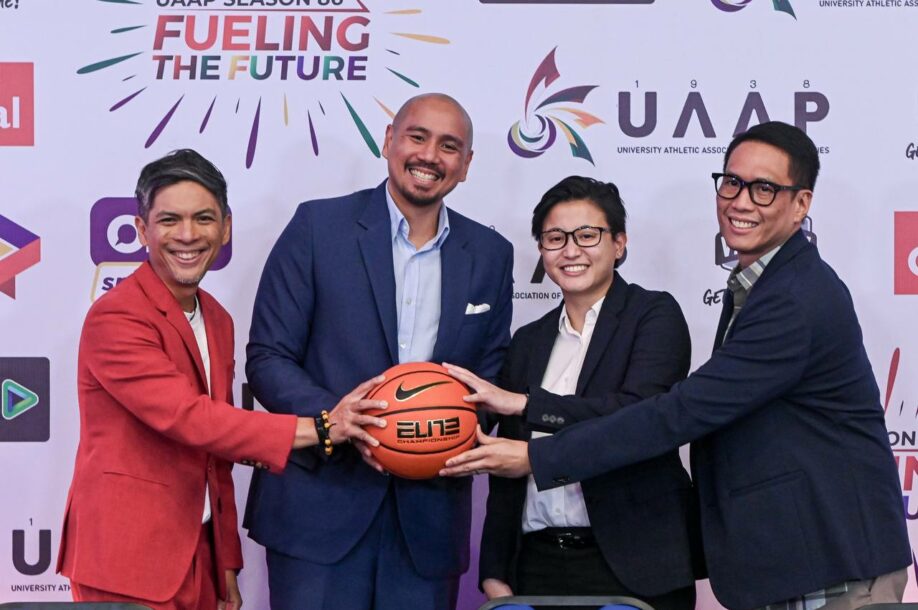 Photo Courtesy: UAAP Media Group
Joining Nunag as Deputy Commissioners are Atty. Mariana Lopa, who will oversee women's and girls' basketball, and Marvin Bienvenida, an NCAA champion coach who will oversee high school basketball.
Coaches from all eight participating schools' men's and women's basketball teams attended the press conference.
The Women's Basketball team was also invited to the event for the first time.
According to Dr. Zosimo Battad, the president of University of the East, this is a way to give the female players the credit and exposure they deserve.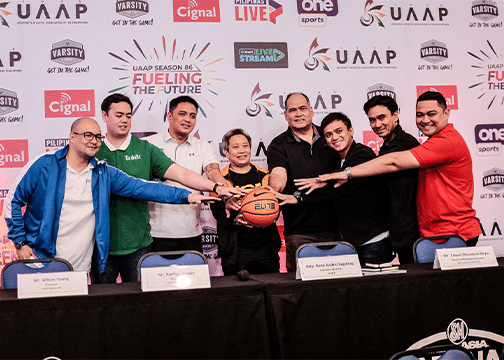 Photo Courtesy: Ryan Baldemor
The Big Dogs of the UAAP
When we talk about the UAAP, a few things come to mind: heated rivalries, surprise comebacks, major upsets, underdog stories, and new stars in each and every squad.
These are some of the reasons why Filipino sports fans can't get enough of UAAP activities, and why many look forward to each season
The main question is whether we'll see new overall champions this year. Which teams will put in the best performance?
Based on their present lineup, the following three teams may dominate this season's basketball tournament:
1. De La Salle University Green Archers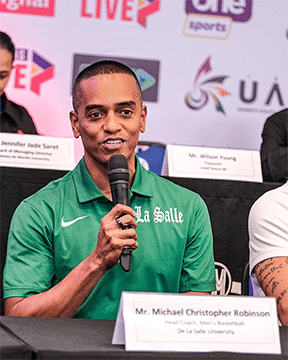 Photo Courtesy: Ryan Baldemor
The Green Archers are expected to play big in Season 86 after having one of the busiest offseasons among competing schools.
The Green Archers won the 2023 PBA D-League Aspirants Cup and the 2023 Kadayawan Cup during the offseason, and finished second in the 2023 Filoil EcoOil Preseason Cup.
It is a strong start to the season for their new head coach, Topex Robinson. In an interview with republicasia, the new head coach said his system is being warmly received by the players.
"The team that we project is pretty much the team that we already have right now. It's just the matter of us really playing in the right tune together," the rookie UAAP coach explained.
Robinson understands the magnitude of the responsibility that comes with coaching a team like La Salle.
Despite this, he is looking forward to the experience, saying, "It's gonna be challenging, it's gonna be exciting, and it's gonna be fun."
The Green Archers may count on veterans Mark Nonoy, Evan Nelle, and CJ Austria to lead the way. Along with Kevin Quiambao, Philips brothers Isaiah, Ben, and Michael are anticipated to man the frontcourt.
Teams should keep an eye out for bright talents Jonnel Policarpio and Joshua David, who are both in their debut season with the Green Archers.
2. University of the Philippines Fighting Maroons
Photo Courtesy: Ryan Baldemor
After losing Zav Lucero and Carl Tamayo, the Fighting Maroons were able to secure top high school big players Luis Pablo and Seven Gagate, as well as 6-foot-8 Filipino-American Sean Alter, over the offseason.
Some of the prominent stars who transferred to UP include Janjan Felicilda and Reyland Torres, as well as Lebron Lopez and Chicco Briones. Reigning MVP Malick Diouf, JD Cagulangan, and Harold Alarcon are all anticipated to play significant minutes for the club.
Aside from that, we can't forget that CJ Cansino is returning from injury to play his fifth and final season.
Cansino, who missed a year due to injury, cannot deny that he is eager to play.
"Alam mo yon? Iyong excitement, syempre 'yung pressure nandun, sobrang halo-halo na yong feeling ko, pero sobrang excited ako," he said.
Coach Goldwin Monteverde has the same mindset heading into this season after finishing second last year.
"Same mindset as we do like every season. We would always prepare very hard, making sure that 'yong full potential namin as a team, mailabas namin," he said.
With a lineup this deep from the UP Fighting Maroons, teams would definitely struggle to find the ideal matchup.
3. Ateneo De Manila University Blue Eagles
Photo Courtesy: Ryan Baldemor
The defending champions, the Ateneo Blue Eagles, also had a very busy offseason, flying all around the Philippines and abroad to participate in games and prepare for the upcoming UAAP Season 86.
Despite failing to defend its championship in the World University Basketball Series in Japan, Ateneo dominated the Pinoyliga and AsiaBasket collegiate tournaments.
But Coach Tab Baldwin believes that this season will be different. 
"We don't consider ourselves defending champions; that was last year's team; this is a new team," he said.
The team is presently concentrating on practicing and preparing as much as possible before the season begins.
"We've practiced since January; we practiced hard, and that's the nature of our preparation. We're trying to get these guys as much experience as quickly as possible," the legendary tactician said.
The defending champions lost key players Dave Ildefonso, Ange Kouame, Forthsky Padrigao, and BJ Andrade. Holdovers Kai Ballungay and Sean Quitevis, as well as newcomer Mason Amos, are expected to step up for the team.
All eight UAAP schools are expected to compete to the best of their abilities. These three teams will undoubtedly have targets on their backs.