THE moment we set foot on the island, we felt some warmth, hospitality was in the air. Young men and women, all millennials, received us gladly and instantly shouted in chorus: Maayong buntag! Good morning!
It gave us some energy after a tiring early dawn flight. We lacked sleep, and so we thought the first thing to do was to go to bed anyway. So good, the Cebu Pacific ground and flight crew were so efficient and friendly, we didn't give up.
Welcome to Sumilon Island in Oslob, the southern side of Cebu. Welcome! The young men and women made us feel young, as young as they feel. No need to fall asleep.
There is nothing like a Filipino welcome. With an unwavering smile and a heart full of enthusiasm, they exude the feeling of warmth that radiates from the comfort of a Filipino home.
Just a short boat ride from Oslob, the town famous for its local Whale Sharks, is a beautiful yet small island. Some really call it paradise.
We come from the eastern side of Metro Manila, having spent most of our childhood in nearby Laguna Lake. The shore had the look of a punished body of water–smelly and inhospitable, next only to Pasig River. When the river was full of water lilies, you know the water was dirty.
But Sumilon island is a paradise, indeed, with crystal clear waters. We could see the fish and sharks with the ocean view from our cottage. The place was serene, indeed, away from the madding crowd.
The Sumilon handouts didn't lie. Neither did they exaggerate.
The weather was so bad on our first night, marked by rolling thunder and raging winds. But it gave us a quick view of indoor facilities.
Sumilon's Boy Friday, Ram Bongo II, led the pack of greeters. He was an all-around man taking care of guests, from questions on your rooms, to dining, to trips around the island, and other nearby tourist attractions.
They toured us around our cottage room, dining hall, and sandy beaches. We were a group of about 12. Inside the restaurants, we had fun. We were served anything under the sun, but we loved most the seafood— nothing could be as fresh when everything came straight from the sea— and fruits, just as fresh.
The island is probably one of the best-kept secrets of Cebu province, the young men and women made sure we didn't miss anything. It is the first marine protected area in the Philippines and has been protected as a marine sanctuary since 1974. It is no surprise that there are lots of marine life swimming about the crystal clear waters around the island.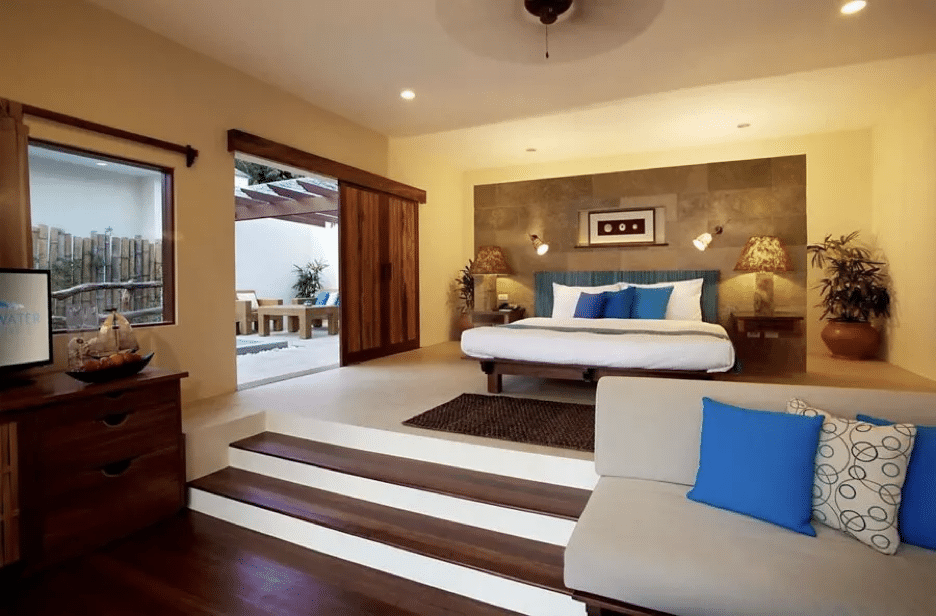 Our room was spacious; the bed was huge, soft and inviting, set against a backdrop of old and hardwood benches and walls.
But the night was cold and still young. Except for our tour guide Pete Dacuycuy and another writer, everybody was a millennial, all of them lifestyle and travel writers. They all seemed to have a story to tell and were eager to share it.
Millennials and baby boomers are a world apart.
We had different perspectives about life and lifestyle. The generation gap was as pronounced as the distance between east and west. It reminded me of the late John F. Kennedy Jr. After his father was assassinated in November 1963, there he was, a little boy, standing side by side with his mother Jackie and sister Caroline, saluting the passing coffin of the former president. The world stopped to take a look at the Kennedys.
We thought that it was one of the most enduring images in American history. A generation later, when he was asked by a prominent American writer about it, JFK Jr. was supposed to have replied: That was your memory. Not his.
We just turned 60 with this trip, and we thought such differences with the millennials in age and perspectives would get in the way of enjoying it.
The last two years of the pandemic gave us a monastic life, but our first night in Sumilon with the millennial writers and Sumilon staff— with their language, their thoughts, their humor, far away and apart from our sheltered and protected life—gave us some good perspective about life and that it shouldn't always be stiff and in a hurry, that there should always be life and work balance.
video credit: Alvin Alcantara
We appreciated them all. Sumilon gave us an excellent backdrop. So we let it be, and let it be in Sumilon. We threw all our worries away.
The next morning, it was a beautiful day, a beautiful day to enjoy a cup coffee and to have quick walk around the resort. The sky was blue. The staff were polite. We would get used to hearing people "Maayong buntag." And we would soon get used to seeing people coming and going to the resort, getting overwhelmed by the island experience.
The food was so good. So were the facilities. Its staff, and our company, were even better. There must be a second time. Maayong buntag!
Banner photo credit: Blue Water Resort