CATHOLIC faithfuls who attended the dawn mass in Quezon province and some areas in Mindanao must have experienced more than their usual showers.
State weather forecasting agency Pagasa issued two thunderstorm advisories around 5 am today – in Quezon province and many areas in Mindanao.
Remember to bring your umbrellas for those who missed Simbang Gabi and will attend the day or evening masses today.
Pagasa said there is a big chance of rain elsewhere in the country today brought about by two weather systems – the Northeast Monsoon and Shearline.
Meanwhile, fishermen in Palawan and Visayas will also be affected by the gale-force winds brought by the Northeast Monsoon.
Thunderstorm and rainfall advisories
Around 5:10 am, Pagasa said moderate to heavy rain showers with possible lightning, and strong winds affected the Quezon towns of Tagkawayan, Calauag, Perez, Alabat, Quezon, Lopez, Buenavista, Catanauan, GeneralLuna, Macalelon, Pitogo, Gumaca in Guinayanga.
Further down south, Shearline brought moderate to occasionally heavy rains with strong winds and gusts.
Around 5:40 am, Pagasa issued the rainfall advisories in the following areas:
Surigao del Sur
Surigao del Norte
Agusan del Norte
Agusan del Sur
Basilan
Davao Oriental
Davao Occidental
Davao de Oro
Dinagat Islands
Misamis Occidental
Misamis Oriental
Some parts of Camiguin, Sarangani, Zamboanga City, Davao Del Norte, and Zamboanga del Norte also felt light to moderate, with occasional heavy rains with strong winds.
Weather forecast today
The eastern portion of Luzon will experience moderate to, at times, heavy rains due to the Northeast Monsoon and Shearline.
Pagasa advised residents of Cagayan Valley, Apayao, Kalinga, Aurora, Quezon, Bicol region, Eastern Visayas and Caraga to take precautions against possible flash floods or landslides.
Metro Manila, Ilocos region, Central Luzon, and other areas of Cordillera Administration Region will also probably have a bit of rain, but only light.
The rest of the country will have partly cloudy to cloudy skies with light rain.
Gale warning
Hanging amihan continues to bring bad news for most of our small fishermen again.
Pagasa raised a gale warning in all of Luzon's seaboards and some islands in the Visayas.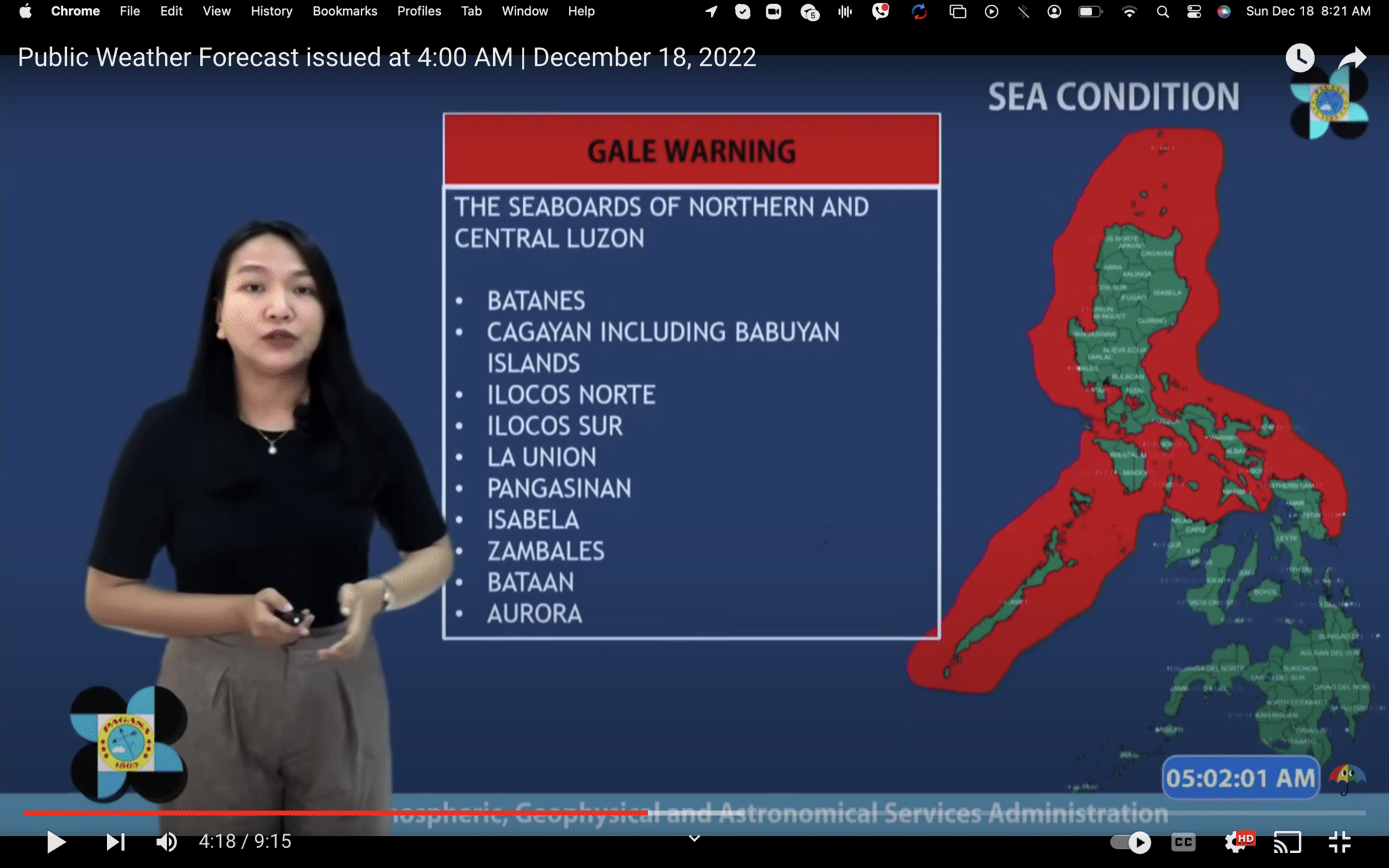 Fishermen on small boats and those who travel via smaller inter-island vessels should not venture out into the sea, Pagasa warned.
Those who have larger sea vessels are alerted against big waves.
Visayas dayalekto
Ang Eastern Visayas makasinati ug madag-umon na kalangitan inubanan sa mga katag-katag na mga pag-ulan, pagpangilat ug pagpanugdog tungod sa Shear Line. Ang nahabiling bahin sa Visayas, Palawan lakip na ang Kalayaan Islands, ug ang Occidental Mindoro makasinati ug panagsang mapanganuron ngadto na sa madag-umon na kalangitan na naay mga pat ak-pat ak na mga pag-ulan, pagpangilat ug pagpanugdog tungod sa localized thunderstorms.
Kasarangan ngadto sa kusog na hangin nga gikan sa Amihanang-silangan ngadto sa Silangan ang mupasulabi sa Visayas, Palawan lakip na ang Kalayaan Islands, ug sa Occidental Mindoro diin ang kadagatan adunay kasarangan ngadto sa baluron ang kahimtang.
Mindanao dayalekto
Ang Caraga makasinati sa mapananuron nga kalangitan inubanan sa katag-katag nga pag-ulan ug panalugdog tungod sa Shear Line. Ang ubang parte sa Mindanao makasinati sa panalagsang pagdag-um ngadto na sa mapananuron nga kalangitan inubanan sa patak-patak nga pag-ulan ug panalugdog tungod sa Localized Thunderstorms. Hinay ngadto na sa kasarangan nga hangin nga magagikan sa silangan ngadto na sa amihanang silangang direksyon ug hapsay ngadto na sa kasarangan ang pagbalud sa kadagatan.