IT was a lit comeback, UP.
The traditional Lantern Parade of the University of the Philippines Diliman has officially returned two years after the COVID-19 pandemic.
Students from different colleges of the university once more used the parade to express their sentiments on various social issues.
The College of Arts and Letters won this year's competition after its students paraded with their bike-themed lantern which signified the use of bikes during the onset of the COVID-19 pandemic, when public transportation was suspended to avoid the spread of the virus.  The lantern  carried a  "no to red-tagging" sign, in apparent reference to attempts to link the university's militant students to the armed insurgency.
The college was awarded a P50,000 cash prize.
The College of Science, which paraded a whale-themed lantern float, placed second in the competition, while the College of Social Work and Community Development bagged third place for showing a tsinelas-inspired lantern.
Honorable mention was awarded to the Asian Center, which presented an elephant-inspired float, while the College of Law received the Most Sustainable Award for its phoenix-themed lantern.
The College of Fine Arts had a separate set of winners.
Here are the winners of this year's Lantern Parade for the College of Fine Arts category:
First Place: Sierra Madre
Second Place: Political Circus
Third Place: Sarimanok
Honorable Mention: Bayanihan
UP students expressed their excitement over the return of the UP Lantern parade after the pandemic.
"Well, I'm very happy that [we have] the lantern parade again after two years," Clarence said in an interview with republicasia.
"It's nice to have some Christmas traditions back here in UP, especially as a [freshman]. This is a first-time experience, so I'm happy to experience this in a face to face setting."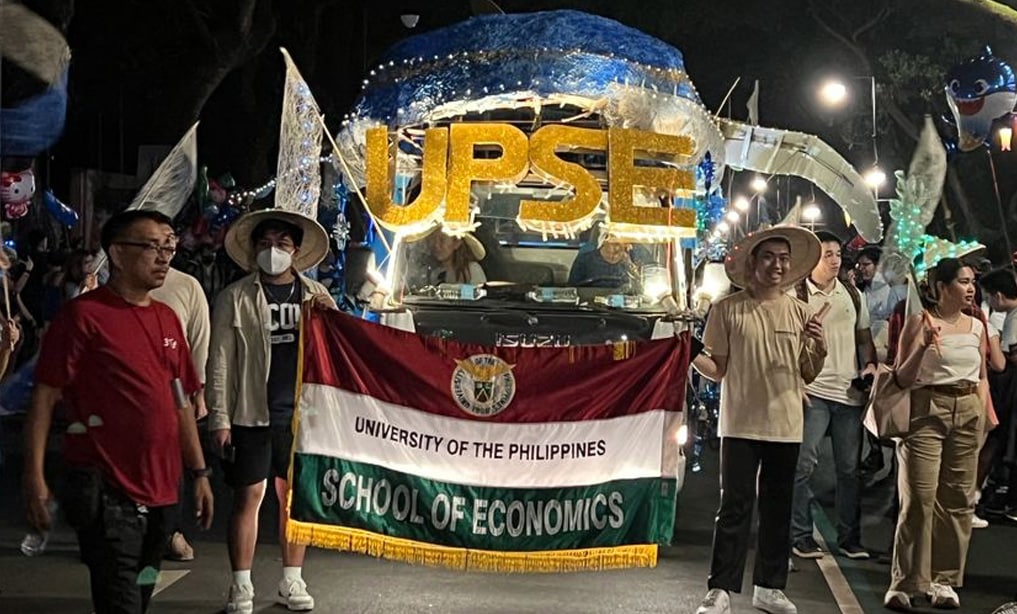 The annual Lantern Parade at the campus is one of the much-awaited activities of the year in the university since it features glimmering lanterns, colorful floats, and pyrotechnics. It began in 1922, inspired by the cultural tradition of carrying lanterns of all shapes and sizes to light the way to early morning December masses, known as "misa de gallo" in Spanish.
UP President Jorge Cleofas Bocobo institutionalized the Lantern Parade in 1934 for students to have "frolicsome activity before the year ends." For the students, the annual lantern parade also signals the end of the semester.