TYPHOON "Rosal" has gained more strength and is now technically termed as a "tropical storm" by the state weather forecasting agency Pagasa.
Good news generally for the Philippines as the first typhoon to enter the Philippine Area of Responsibility this month is veering away from the landmass and is expected to dissipate on Wednesday.
Obet Badrina, weather specialist of Pagasa, said the TS Rosal (international name: Pakhar) was last spotted around 770 kilometers east of Calayan Island in Cagayan.
It has a maximum wind of 85 kilometers per hour and gustiness of 105 kilometers per hour – quite strong and could cause a storm surge and topple trees if it landed in the Philippines. It is also moving a bit slow at 20 kilometers per hour. Again, good thing it is moving towards the northeast.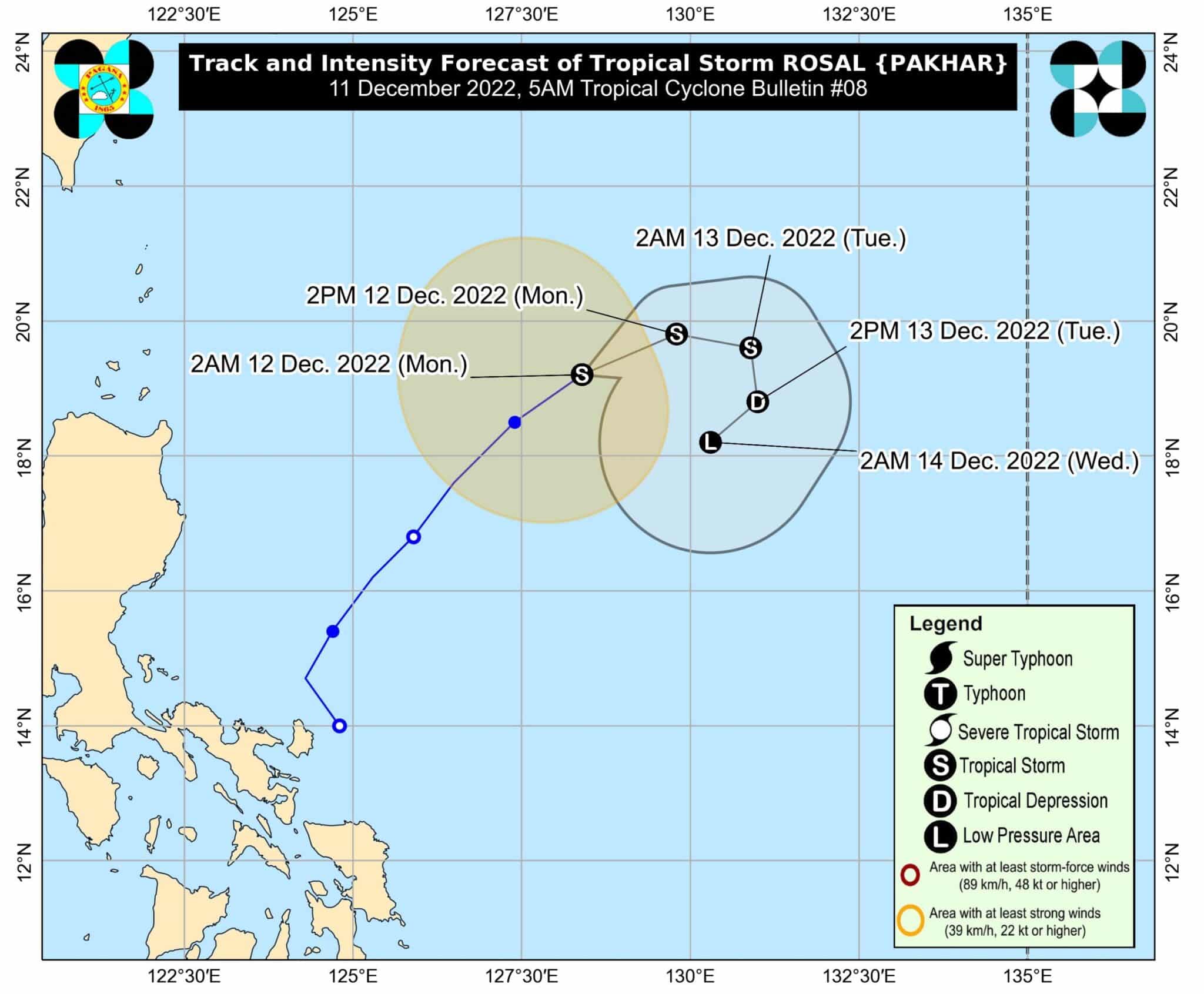 Expect heavy rainfall
The trough – or the tail-end – of "Rosal" will likely bring heavy rainfall in the country, Pagasa said in its 5 am advisory.
Pagasa warned that the effects of Rosal's trough might trigger flooding or rain-induced landslides.
Batanes and Babuyan Islands will experience severe winds brought by the Northeast Monsoon and partly enhanced by TS Rosal.
Batanes could feel occasional gusts reaching gale force. At the same time, the coastal and upland areas of Ilocos Norte, northern and eastern Cagayan, eastern Isabela, and the Babuyan Islands will likely have a strong breeze to near-gale strength.
Gale warning in Northern Luzon
Mariners will continue to have bad day at sea in northern Luzon.
Rough to very rough sea conditions are expected over the seaboards of Batanes, Ilocos Norte, Ilocos Sur, La Union, Pangasinan, Cagayan Including Babuyan Islands, and Isabela. Waves could go as high as 5 meters or equivalent to slightly taller than a one-story building.
"Fishing boats and other small seacraft are advised not to venture out into the sea while larger sea vessels are alerted against big waves.," Pagasa said.
Rosal's outlook tomorrow
Pagasa forecasts that the storm will move "generally northeastward" until this afternoon and then change its course toward east.
"During this same period, this tropical storm is forecast to maintain its present intensity, although a short window of slight intensification is not ruled out, which may potentially bring it to severe tropical storm category within the day," Pagasa said.
Tomorrow, the Northeast Monsoon will likely weaken the storm's strength.
Visayas dayalekto
Ang tibuok bahin sa Visayas, Palawan lakip na ang Kalayaan Islands, ug ang Occidental Mindoro makasinati ug panagsang mapanganuron ngadto na sa madag-umon na kalangitan na naay mga patak-patak na mga pag-ulan, pagpangilat ug pagpanugdog tungod sa Trough ni TS Rosal / Localized Thunderstorms.
Kasarangan ngadto sa kusog na hangin nga gikan sa Amihanang Silangan ngadto na sa Amihanang Kasadpan ang mupasulabi sa Palawan lakip na ang Kalayaan Islands, ug sa Occidental Mindoro diin ang kadagatan adunay kasarangan ngadto sa baluron na kahimtang. Hinay ngadto sa kasarangan nga paghuros sa hangin gikan sa Amihanang-kasadpan ngadto sa Habagatang-Kasadpan ang mupasulabi sa Visayas diin ang kadagatan adunay hinay ngadto sa kasarangan ang pagbalud.
Mindanao dayalekto
Ang tibuok dapit sa Mindanao makasinati sa panalagsang pagdag um ngadto na sa mapanganuron nga kalangitan inubanan sa patak-patak nga pag ulan ug panadugdog tungod sa Localized Thunderstorms. Hinay ngadto na sa kasarangan nga hangin nga magagikan sa kasadpan ngadto nasa habagatang kasadpang direksyon ug hapsay ngadto na sa kasarangan ang pagbalud sa kadagatan.