WHAT do you want for Christmas?
If you're a teenager, chances are you want to get an actual item, something in kind, rather than money.
But if you're a young adult, you're more likely to enjoy receiving cash gifts for the holidays.
This was according to the survey conducted by Radio Veritas, the flagship Catholic radio station in the Philippines.
The text and online survey polled 1,200 respondents nationwide from November 1-30, 2022.
It found that 38 percent of the total respondents prefer cash gifts, while 32 percent prefer gifts in kind.
But more than half, or 58 percent of those 13 to 20 years old, would rather receive an item instead of money. Only 17 percent of the members of this age group would like to receive cash, while another 17 percent said it did not matter what they would be given, as it's the thought that counts. Eight percent were undecided.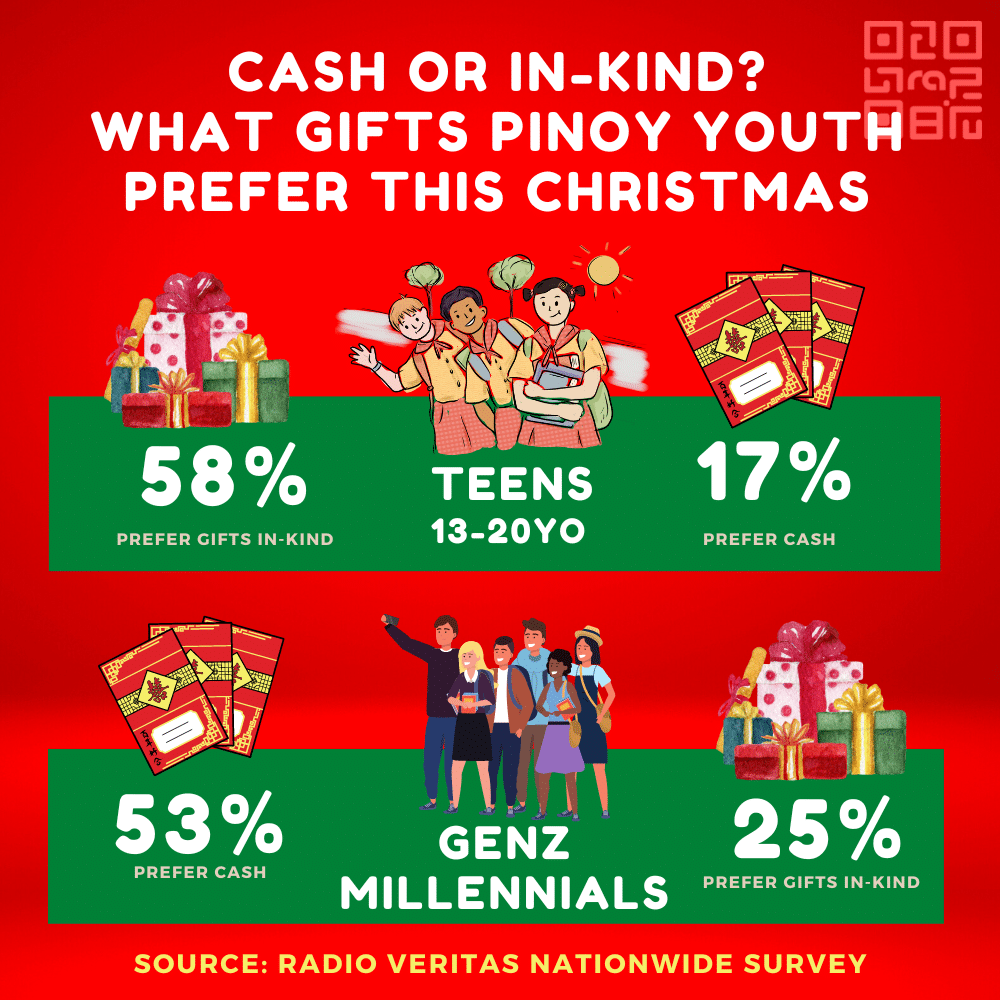 Bro. Clifford Sorita, a sociologist who led the survey, said teens like the excitement of opening gifts.
"It's in the suspense of finding out what's inside each gift that brings each young person to prefer gifts," Sorita told republicasia.
He also said gifts in kind sometimes have greater value than cash.
On the other hand, the survey found that 53 percent of young adults or those 21 to 39 years old would like to receive cash as gifts. Only 25 percent would like to receive gifts in kind, while 15 percent said it does not matter, and 7 percent were undecided.
In the case of adults, or those between 40 to 60 years old, the numbers were similar. 35 percent preferred cash gifts and 35 percent preferred gifts in kind. 27 percent said it does not matter what they get, and the remaining 3 percent were undecided.
For the elderly, or those 61 years old and above, 34 percent preferred gifts in cash, 31 percent in kind, and 21 percent said it did not matter. The 12 percent left were undecided.
Fr. Anton Pascual, Radio Veritas president, reminded givers that they must consider the interest of the receiver when choosing what to get them.
"Though there is a clear choice from the respondents, still the best interest of the receiver must dictate the kind of gift we are to give… be it a gift item or money," Pascual said.
He also reminded them of the words of Mother Teresa who said, "It's not how much we give but how much love we put into giving."
"So, in the end, the amount of thoughtfulness and love that we factor in in choosing either gift or cash would reveal the true value of the gift we are to give," he said.
Sorita underscored the importance of knowing the receiver well in choosing the best kind of gift to give.
"A perfect gift is one the recipient really wants, enjoys and appreciates, and possibly would not buy for him or herself. In short, ideal gifts are those that are still treasured after many years," he said.
"The perfect gift is wanted, needed, deserved and appreciated. It has to be very thoughtfully and carefully chosen," he added.