A GRADE 9 teenage boy allegedly struck a batch mate with a brass knuckle in the middle of a sparring dare inside a restroom of Colegio San Agustin in Makati City yesterday.
The sparring was caught on cam and shared by the Twitter account "Exposing the Truth."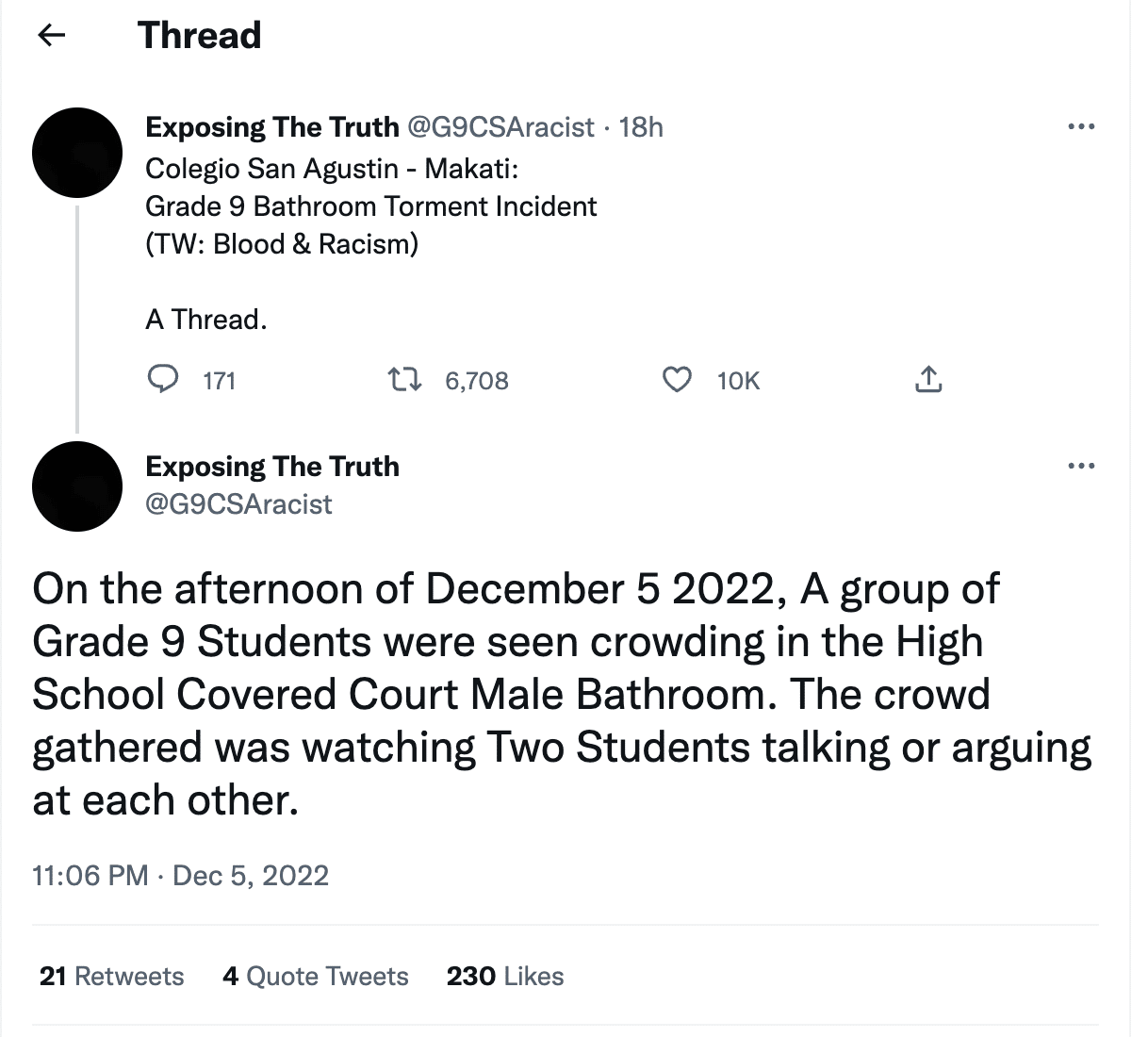 The Twitter alter said the bully went further with online bullying.
Flexed his brass knuckle on Tiktok;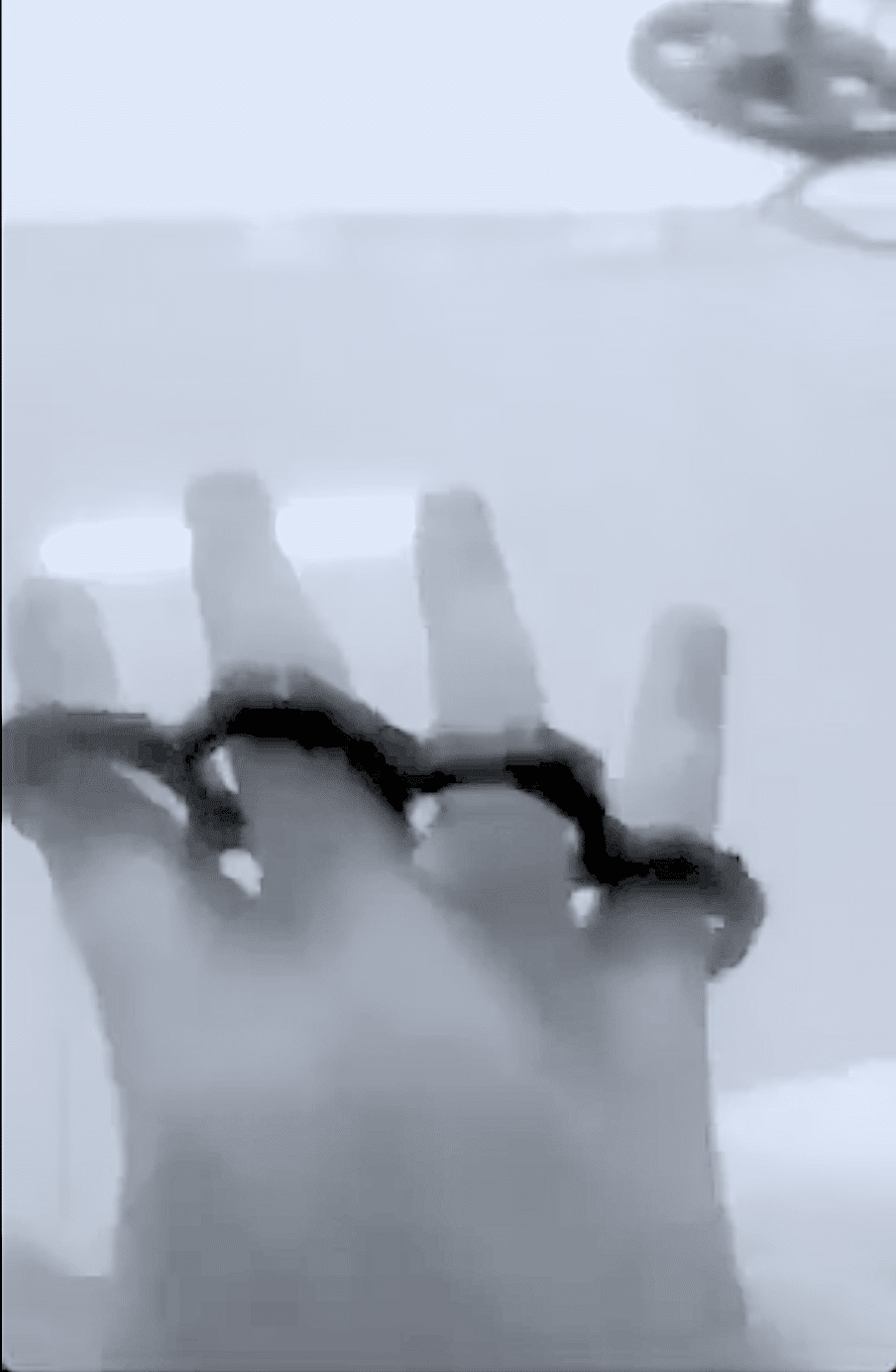 Posted an MTV-style video of the brawl;
Ridiculed his nemesis, pictured in a sling with a text that reads: "Tulog eh…. Dami makulit sa mundo dapat binawasan."
The victim suffered multiple concussions in the head, the alter account said.
Parents of CSA students told republicasia they are alarmed by the incident and wanted the Department of Education to intervene.
Fr. Dante Bendoy, CSA rector, confirmed the incident which occurred around 9:15 am during recess.
"This is to assure everyone that the school is taking this matter seriously and has since launched an ongoing investigation. The Discipline Group of the High School Department has been convened and has been conducting inquiries and is in direct communication with the students involved and their parents immediately after the incident," Bendoy said.
At least 10 students are involved in the school fighting, CSA spokesperson Atty. Joel Noel Estrada said.
Bendoy said a roaming guard and the school's discipline coordinator responded to a distress call of an "alleged accident" in the boys' comfort room.
"The guard who responded found two students who needed medical assistance and were brought immediately to the school clinic. The school has provided the necessary medical assistance to both students," Bendoy narrated.
The CSA coordinator for Campus Discipline, Safety and Security later found out that the incident "was not an accident, but a fighting incident" involving Grade 9 students. The school also received copies of the videos and photos of the incident circulating online.
"As we assure the public that the school is treating this matter with extreme urgency and importance, we remind everyone to be mindful of consequences of sharing videos or photos on social media involving the minor students and avoid encouraging more acts of violence," he added.
"We request for your prayers for the school community, students and families affected by this terrible incident of violence. We will address this incident with proper interventions upholding fairness and justice to everyone involved, consistent with the school's core values of veritas (truth), unitas (unity), and caritas (charity)."
The CSA rector said the school "does not tolerate or condone violence."
"We have institutionalized our child protection policy and guidelines and constantly updated our student handbook emphasizing the importance of positive student discipline and compassion for others.
"Our school's SAFE (School Advocating a Friendly Environment) Program was launched in 2008, where activities are geared towards disseminating information on negative consequences of bullying and how to prevent them. These policies are communicated to all students to ensure that they know their rights, duties and responsibilities," he added.