Good news, it's Sunday! Another good news: the new typhoon that entered the Philippine Area of Responsibility won't be making landfall this week, state weather forecasting agency Pagasa said.
Pagasa warned that Metro Manila most of the country will likely experience partly cloudy to cloudy skies with isolated rain showers and thunderstorms as a result of the trough or the tail-end of Tropical Depression Rosal.
Bicol Region, MIMAROPA, CALABARZON, Western Visayas, Aurora, and Isabela will likely experience more rain than the rest of the country today. Aside from the effects of the TD Rosal, another weather system – shear line – will also contribute to the cloud formation and rains today.
Watch out, northern Luzon and Catanduanes residents for powerful winds. The wind will be extra strong. Don't bring low-quality umbrellas. As for ladies, If you can avoid wearing skirts on today's Sunday mass or dates, please do so (unless, of course, you like a Marilyn Monroe-Instagrammable photo).
TD Rosal
Pagasa sighted "Rosal" in the East Philippine Sea, estimated at 330 kilometers east of Casiguran, Aurora, sometime around 3 am today.
It sustained maximum sustained winds of 45 km per hour near the center and gustiness up to 55 km/h.
Pagasa weather specialist Aldczar Aurelio said they expect the storm's trajectory to move towards north, and northeast at the speed of 20 km per hour.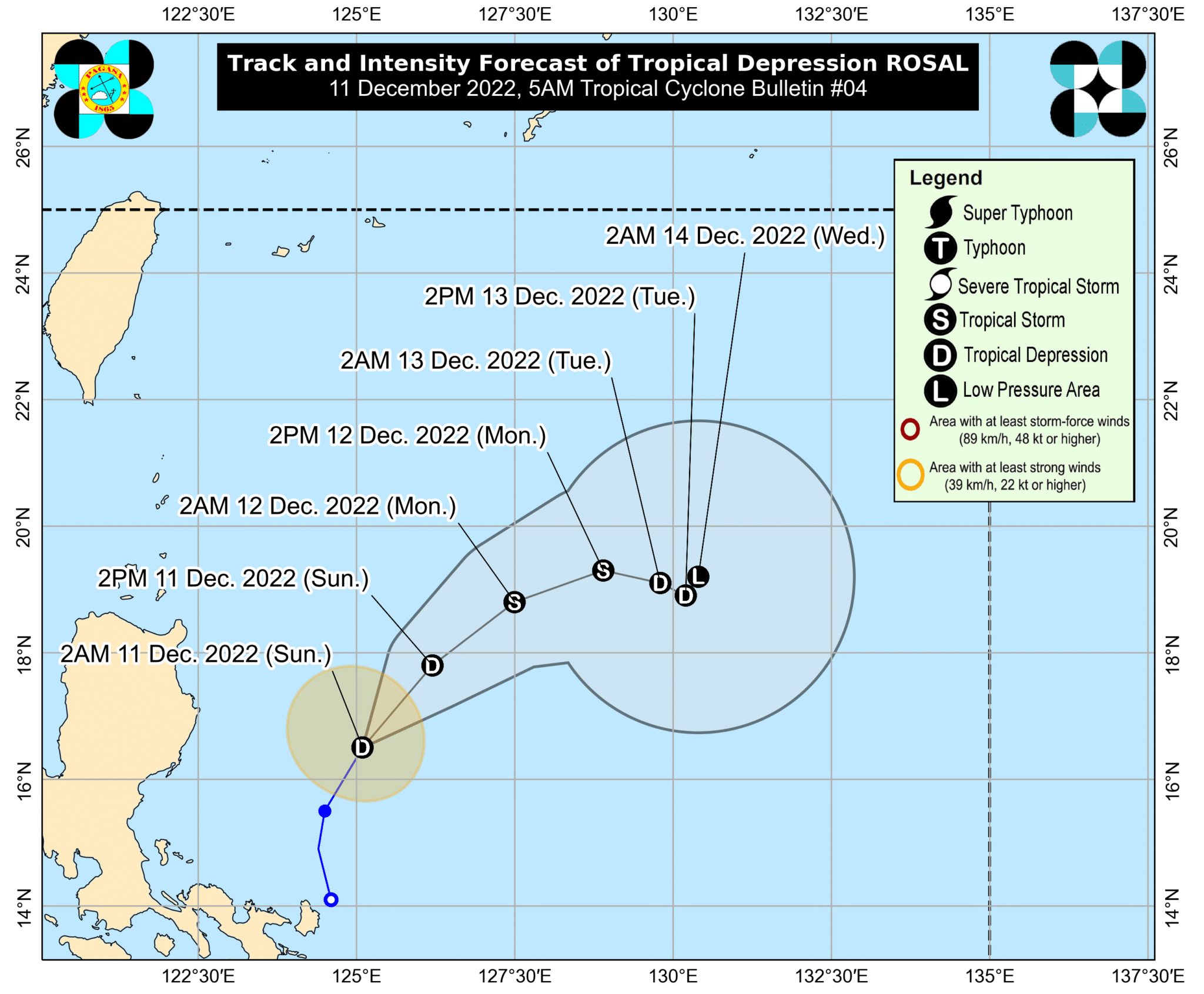 "Malabo na pong maglandfall ang Bagyong Rosal sa ating bansa," Aurelio said.
However, in the next 36 hours, Pagasa expects "Rosal" to further strengthen from a tropical depression into a tropical storm. On Wednesday, they are projecting that Rosal would weaken into a low-pressure area while still within PAR.
Effects of TD Rosal
In the next 24 hours, "Rosal," in collaboration with northeast monsoon or hanging amihan, may bring occasional gusts reaching gale force over Batanes and Babuyan Islands.
Meanwhile, Ilocos Norte, northern and eastern portions of Cagayan, the eastern part of Isabela, Calaguas Islands, and the extreme north portion of Catanduanes will experience a strong breeze to near-gale strength.
In the MIMAROPA region, residents will experience light to moderate, with, at times, heavy rains in the morning til noon.
"Kaya para sa mga kababayan natin sa Mimaropa, dahil sa pag-ulan na mararanasan, maaaring magdulot ng pagbaha at pagguho ng lupa," Aurelio said.
Gale warning
No fishing for small boat owners off the coasts of northern Luzon and Ilocos region:
Batanes
Cagayan
Babuyan Islands
Ilocos Norte
Ilocos Sur
La Union
Pangasinan
Gale could go up to 5 meters or 2-story building.
Waters off central Luzon and the eastern and eastern seaboard of Southern Luzon will also likely experience moderate to rough seas in the next 24 hours. Waves could go as high as 1.5 to 3.5 meters or one-story buildings.
"These conditions may be risky for those using small seacrafts," Pagasa warned.
"Mariners are advised to take precautionary measures when venturing out to sea, and if possible, avoid navigating these conditions."
Visayas dayalekto
Ang Western Visayas, ang Palawan lakip na ang Kalayaan Islands ug ang Occidental Mindoro makasinati ug madag-umon na kalangitan na naay katag-katag na mga pag-ulan, pagpangilat ug pagpanugdog tungod sa TD Rosal. Ang nahibiling bahin sa Visayas makasinati ug panagsang mapanganuron ngadto na sa madag-umon na kalangitan na naay mga patak-patak na mga pag-ulan, pagpangilat ug pagpanugdog tungod sa Trough ni TD Rosal / Localized Thunderstorms.
Kasarangan ngadto sa kusog na hangin nga gikan sa Amihanang Silangan ngadto na sa Amihanang Kasadpan ang mupasulabi sa Palawan lakip na ang Kalayaan Islands, ug sa Occidental Mindoro diin ang kadagatan adunay kasarangan ngadto sa baluron na kahimtang.
Hinay ngadto sa kasarangan nga paghuros sa hangin gikan sa Amihanang-kasadpan ngadto sa Habagatang-Kasadpan ang mupasulabi sa Visayas diin ang kadagatan adunay hinay ngadto sa kasarangan ang pagbalud.
Mindanao dayalekto
Ang tibuok dapit sa Mindanao makasinati sa panalagsang pagdag um ngadto na sa mapanganuron nga kalangitan inubanan sa patak-patak nga pag ulan ug panadugdog tungod sa Localized Thunderstorms. Hinay ngadto na sa kasarangan nga hangin nga magagikan sa kasagpan ngadto nasa habagatang kasadpang direksyon ug hapsay ngadto na sa kasarangan ang pagbalud sa kadagatan.