CHAM Tanteras, the Siargao-based vlogger who went viral for posting an "immigration rant" over the unjust treatment she received at the airport, reiterates calls to hold the Bureau of Immigration accountable to spare travelers from experiencing a similar nightmare in the future.
She is also seeking financial claims from the BI because their lengthy and irrelevant interview caused her to miss her flight last December.
"I'm just asking [Bureau of Immigration's] accountability for the future travelers, ano na mangyayari sa next travelers? Mahohold na naman ba sila ulit? Ganito na naman ba ulit yung mangyayari?" Tanteras told republicasia.
Earlier this month, Tanteras uploaded a video on Tiktok recounting her ordeal with an immigration officer who subjected her to a circuitous line of questioning.
Tanteras was about to fly to Israel on December 21 when the immigration officer asked her to step aside. She was invited for a second round of interview, where, Tanteras said, some of the questions were "ridiculous" and "irrelevant" to her trip.
"Tinanong niya ako if I graduated already, sabi ko, 'Yes po," she continued. "Tapos sabi niya, 'Do you have your yearbook with you?'"
The questions further circled around her educational attainment to her parents' marital status. The BI even asked her to present graduation photos and a yearbook.
Tanteras showed BI a graduation photo. But the officer remarked that she does not look the same as the one in the photo.
When BI asked for a yearbook, the vlogger said she wouldn't bring such a heavy item to her trip.
And then BI went on to ask if her parents are still living together.
Tanteras found this "ridiculous" and questioned how her graduation photo or her yearbook was even relevant to her trip.
According to the vlogger, the immigration officer ignored her each time she would inquire about their line of questioning.
Instead of explaining why she was subjected to such queries, the immigration officer would throw her more questions.
Aside from asking unnecessary questions, the officer also went over her phone and emails to verify her identity.
"He checked my emails, sabi niya, 'Patingin nga ng emails mo.' I have a printed copy of my booking confirmation but sabi niya, 'Ako na magche-check,' so ini-scroll niya parin phone ko to make sure," Tanteras told republicasia.
During the grilling, the airline's ground staff reminded the immigration officer twice about Tanteras' flight.
The airline even asked BI if they intend to offload the vlogger. To BI officer said no.
"Verbatim sinabi ng IO na, 'No, no, no, last question na, I don't have plans, I will release this person but wait lang,'" she added.
The ground staff further explained that the plane was ready to fly and Tanteras was the sole passenger they were waiting for. Despite this, they proceeded to ask the vlogger with more questions.
Then the IO officer grabbed Tanteras' envelope and rummaged through her travel documents allegedly to speed up the verification process. When the immigration officer saw her business's DTI permit, he asked Tanteras about the current status of her small boodle food service in Siargao.
Tanteras offered to explain the business verbally but the officer asked her to write an essay. The long hours spent inside the immigration office eventually caused the vlogger to miss her flight.
"Technically, I missed my flight, but I was clear to go. I'm fine with my documents, even the IO said na wala siyang problem with my documents kasi lahat 'yon may booking," she added.
Rebooking and return ticket
Her old ticket worth P19,000 was practically scrapped. To push through with her trip, Tanteras was forced to purchase another ticket from a different airline amounting to P27,000.
"So binook ko siya first then hiwalay ko binook yung return kasi nung binobook ko yung papunta, yung departure, hindi pa 'ko makapagdecide kung kailan kaya ako uuwi," Tanteras said. "After a few days pa ako nakapag decide kung kailan ako babalik. Hiwalay siya na airline, hiwalay siya na booking kaya I only counted that as like one way, 19,000."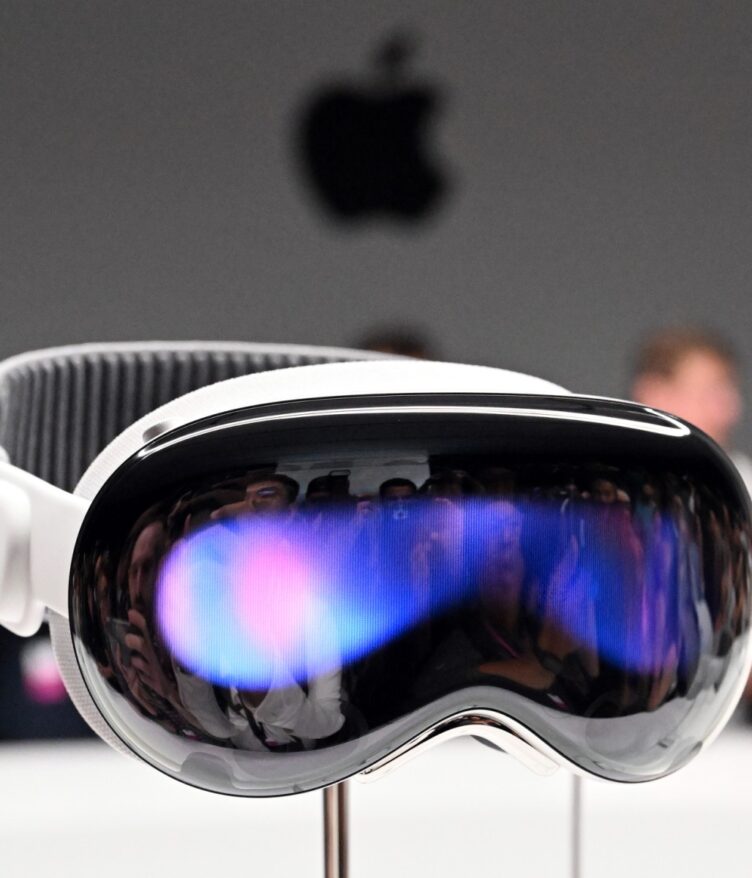 Apple has unveiled its first mixed reality headset, challenging Facebook-owner.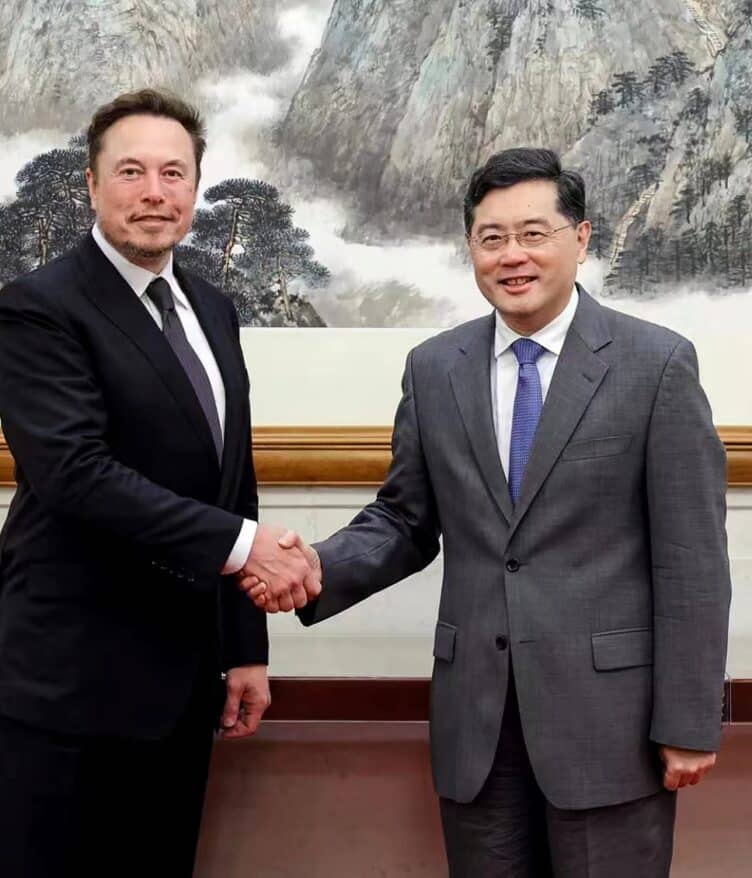 WASHINGTON, United States– Top Chinese officials told Elon Musk about plans.
Inflation, or the pace of increase in the prices of.
No response from the immigration
Aside from the statement that BI published in its social media page, the agency did not, in any way, reach out to Tanteras regarding the inconvenience she endured under its care.
In a Facebook post, the Immigration said that it "immediately conducted an investigation and asked the immigration officer involved for a full report on the full incident."
The agency also apologized to the Filipina vlogger for the inconvenience.
The BI said the issue of human trafficking and illegal recruitment remains to be one of the country's perennial problems, and the inspection processes of the immigration is one way of protecting the Filipinos from this human right violation.
The Immigration also asked for consideration regarding the issue as it likewise reminded its staff to remain professional when conducting inspections.
"The management has likewise reminded its personnel to conduct their inspections professionally, and in an efficient manner, to prevent future similar incidents from occurring," it wrote.
Tanteras told republicasia that she sent BI an emailed complaint but the agency has yet to respond.
In her complaint, Tanteras demanded "accountability for the civil and financial damages" of the immigration officer involved since there was no refund given by the airline for her missed flight.
"I also feel discriminated against and don't find any justifiable reason to hold me in the first place since I believe my documents are complete and legitimate," she wrote.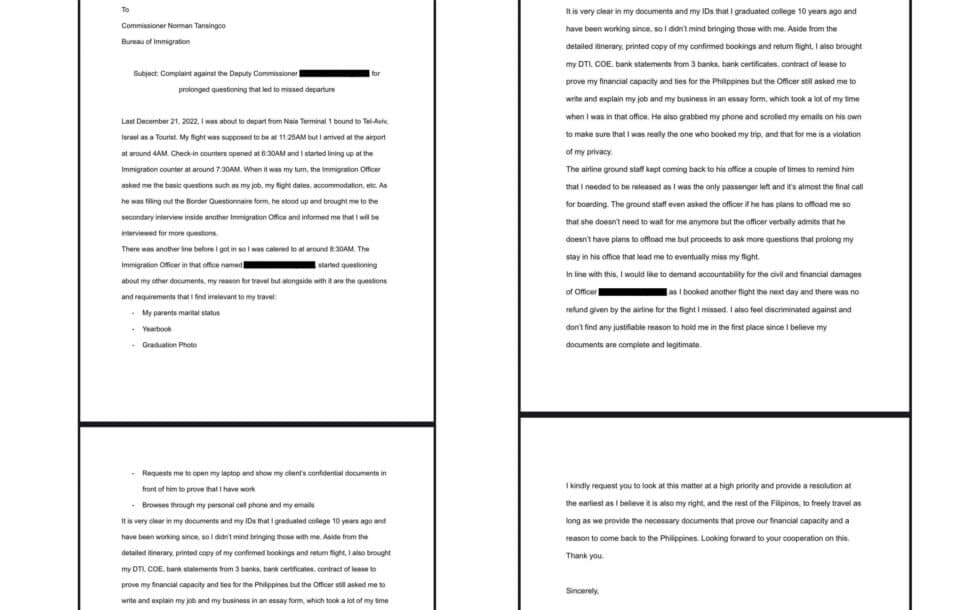 Courtesy: Cham Tanteras
"Kung may problem sila sa documents ko, [they] could have said it right there and then. They could have offloaded me," said Tanteras. "My issue is really more on the prolonging of the questioning that led me to miss that flight kasi he was aware of my boarding time."