SOME people say a rabbit's foot amulet brings good luck.
But for a Caloocan community, it's not just rabbit's feet that have brought them good fortune, but herds of fluffy white, brown, and gray rabbits.
Since the pandemic, these cuddly animals have been providing the Our Lady of Grace Parish and the surrounding community with a source of food and livelihood. 
"Swerte talaga ngayon dahil sa blessings na natatanggap ng parokya because of these rabbits," Sister Nelia Mendoza told republicasia.
In the Project Grace Rabbitry beside the Our Lady of Grace Church in Caloocan, hundreds of rabbits live in cages ready to be slaughtered for their meat or given away to families who will breed them for food and income.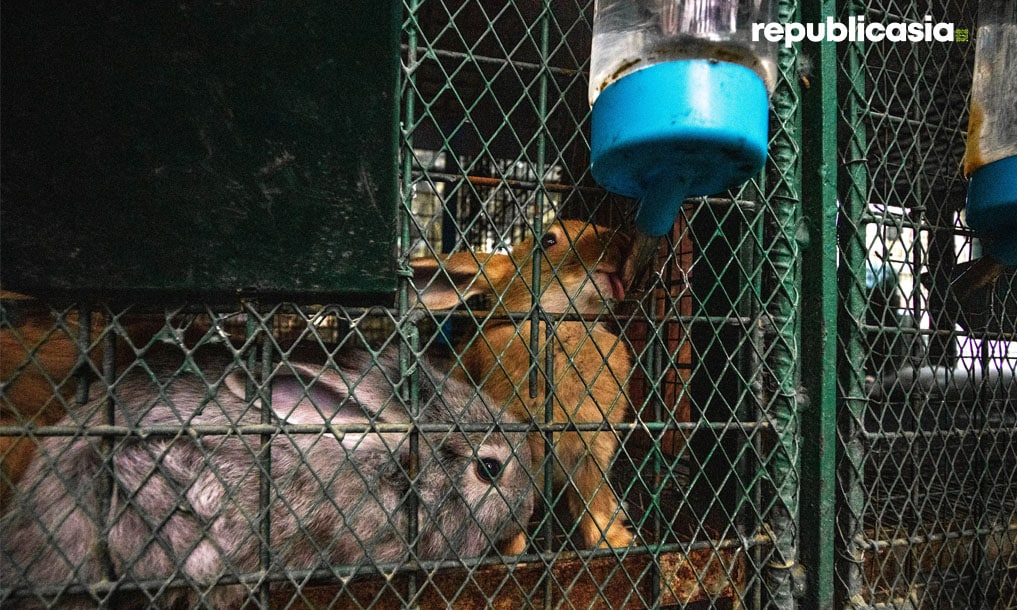 Rabbits in the Project Grace Rabbitry get ready to be bred or eaten
Pandemic project 
The project to breed rabbits was the brainchild of Father Eduardo "Ponpon" Vasquez  of the Shrine of Our Lady of Grace parish, according to Mendoza.
Fr. Vasquez is an advocate of urban gardening and wanted to help poor residents of the community have a source of food during the pandemic, Mendoza said.
The parish has been planting vegetables and selling these or giving these away. But Fr. Vasquez thought of providing residents with meat and helping them produce their own food, she said.
This was when the idea of raising rabbits was born.
In 2021, the Shrine of Our Lady of Grace Parish launched its Rabbit Dispersal Project.
Under the' project, residents are given rabbits to breed for food, along with pellets for the rabbits' food. But they are first trained on how to properly care for and raise the rabbits.
It's a bit of an unusual project considering that Filipinos are not big consumers of rabbit meat as they are more familiar with pork, chicken, and beef.
But as Mendoza noted, rabbits can be a good source of meat because they are prolific breeders. A doe could produce more than 20 offspring a year.
Rabbit meat is also nutritious and has less cholesterol than other commonly eaten meats, she said.
Rabbits at home
One of the beneficiaries of the rabbit dispersal project is Jocelyn Camato Castillo.
Castillo received one rabbit that was able to give birth to six kittens. She later on received more rabbits and was able to breed more.
She gave some of these back to the parish and also provided some to her neighbors. There are currently 15 rabbits in her home.
Aside from eating rabbit, she has also sold a few pairs for extra income.
Tastes like chicken
When Castillo was given the rabbit, she was told that it would be bred to be eaten. It had not been easy for her to accept this, she said.
"Nung una medyo mahirap, pero nung nagpakatay si father, nagpakain siya dito, nakatikim po ako. Ok naman po. Hindi naman po siya mahirap kainin. Parang lasa lang po siyang chicken," she said.
Her favorite rabbit dishes are papaitan, caldereta, and lechon rabbit.
Eating challenge
She also acknowledged that it could be challenge get people to eat rabbit meat. After all, the cuddly and fluffy rabbits have been mostly treated as pets in the Philippines.
"Yung iba po talaga medyo nahihirapan sila dahil hindi po nila akalain na kinakain yung rabbit. Pero marami na rin pong kumakain, tumitikim dahil nagpapatikim si father dito ng rabbit," she said.
The parish also sells longganisa, embutido, sisig, and tocino made of rabbit meat.
Castillo urges the public to give rabbit meat a try. They just need to take one bite to know that it is good, she said.
"Pag natikman niyo po, uulit-ulitin niyo po iyan," she said.
She is also doing her best to convince her family to get used to eating rabbit meat.
"Sabi ko sanay-sanayin niyo kasi masarap iyan. Pag nag pandemic ulit, iyan ang i-uulam natin," she said.
Lucky rabbits
Mendoza said rabbits also bring luck in more ways than one. 
From what she has seen, families taking care of rabbits have become more mellow because they didn't want the rabbits to be stressed. 
"Nagme-mellow down sila sa kanilang sigawan, nagkaroon ng peace and katahimikan because of the presence of the rabbit, na talagang nirerespeto nila yung characteristic ng rabbit," she said.
The rabbits also bring joy, especially to children in the house, she said.
More rabbits to come
There is no stopping this project.
Mendoza said the parish project to breed and disperse rabbits to the community has attracted the interest of people from other cities such as Valenzuela and Quezon City. They would like to join the seminar on how to breed rabbits, she said.  
She is also happy that the project will continue to help more families who will be able to enjoy food security as well as get a source of livelihood.
Year of the rabbit or not, rabbits will bring them good fortune.