THE New Zealand government is again offering scholarships for Filipino youth who would like to pursue post-graduate studies in New Zealand.
The New Zealand Embassy said applications for the Manaaki Scholaships will open on February 1.
Manaaki is a Māori word that revolves around the concepts of generosity, hospitality, sharing and community building. It literally means to lift up or elevate (aki) another person's mana (honor, esteem, respect, value).
The The New Zealand Government through the New Zealand Aid Programme will fund the scholarships
"Manaaki New Zealand Scholarships help build prosperity, security and sustainable growth in the Philippines and a lifetime connection with New Zealand. Aotearoa New Zealand's development partnerships in the Philippines reflect New Zealand's strengths in agriculture, education, governance, renewable energy, and disaster resilience," New Zealand Ambassador Peter Kell said.
Qualifications
The scholarship is open to public, private and civil society sectors.
Applicants should be under 40 years of age at the time of commencing their scholarship.
They should have at least one year of work experience. If including internship or volunteer work, the requirement is be at least two years of work experience.
Applicants should also commit to return to the Philippines for a minimum of two years upon completion of study.
Post-graduate fields
Priority sectors for study include post-graduate degrees in:
Climate Change and the Environment
Climate change
Climate change science
Environmental policy and planning
Environmental law
Civil engineering
Water management
Natural resource management
Disaster Risk Management
Disaster management
Emergency management
Geology
Geotechnical engineering
Food Security and Agriculture
Agribusiness
Agricultural science
Agricultural technology
Aquaculture
Farm management
Food technology
Supply chain management
Renewable Energy
Energy distribution systems and technologies
Energy management
Energy policy
Geothermal, hydroelectric, hydrothermal, solar and wind energy
Governance
Government Services: Public policy, public service management
Peace and conflict studies
Indigenous studies
Scholarships will cover full tuition, living expenses, establishment allowance, medical and travel insurance and travel to and from the Philippines.
Number of scholars
This year, there were eight young FIlipinos who were awarded the Manaaki New Zealand Scholarships:
Saidin Ali – Master of Marine Studies, University of Auckland)
Efren Gabriel Alvarado – Master of Disaster Risk and Resilience, University of Canterbury
Mary Jill Banta – Master of Environmental Science, Victoria University of Wellington
Chareen Joy Guzman – Master of Environmental Policy and Management, Lincoln University
Jay Jomar Quintos PhD Indigenous Studies, The University of Otago-Dunedin
Nina Joan Revalde – Masters in Engineering Management, University of Auckland
Keith David Salarda – Master of Disaster Management, University of Auckland
and Leslie Sampollo – PhD Marine Science, University of Auckland
For 2024, 16 slots will be opened for Filipino young scholars.
Promotion in Baguio
Ambassador Kell will be in Baguio City from January 30-31 to promote the Manaaki Scholarship Programme. He will meet with stakeholders to encourage young Cordillerans to apply.
"Ambassador Peter Kell would like to encourage more indigenous and Cordilleran young academics and practitioners in the relevant fields to apply to the programme," the New Zealand Embassy said in a statement.
According to the New Zealand Foreign Affairs and Trade, the Manaaki has been receiving a small number of applications from scholars in the Mindanao and the Visayas for the past years.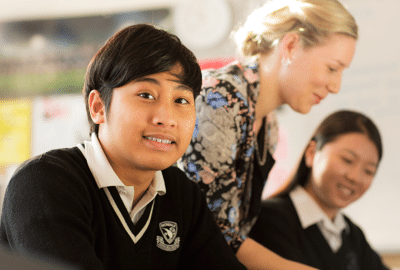 How to apply
The application portal will open at 5 am Philippine time Wednesday 1 February, and close 5 pm Tuesday 28 February.
Interested applicants may visit the New Zealand Embassy in Manila Facebook page for more details (http://www.facebook.com/nzembassyphilippines). For questions, you many message them directly https://scholarship.force.com/Scholar/s/enquiry .
---
Banner photo courtesy: Study with New Zealand FB Page