"FATHER, give me healing."
This is the only petition to the Black Nazarene image of Cresencia Torno, 54, a resident of Baseco Compound in Port Area, Manila.
She was one of the 587,235 faithful who went to the Quiapo Church during the celebration of this year's feast of the Black Nazarene. She was also one of the many devotees who stayed for three days in Quiapo to pay respect and fulfill their "panata" (religious vow) to the Black Nazarene image.
Faithful since 1992
Cresencia has been a devotee of the Black Nazarene since 1992 despite her not being a Roman Catholic. According to Cresencia, she used to join the yearly traditional Traslación (solemn transfer of the image of the Black Nazarene) from Quirino Grandstand to Quiapo Church – lasting for more than 16 hours – not until her faith was tested in 2021.
In September 2021, Cresencia was paralyzed after she got home from the sardines factory in Navotas City where she previously worked.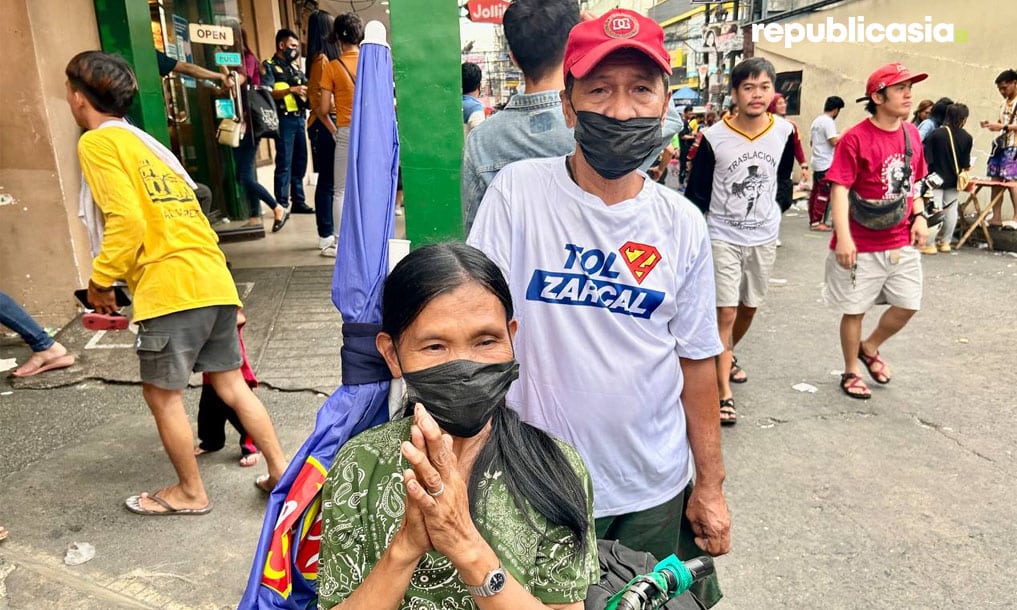 Tragedy in the family
According to Cresencia, her legs suddenly became numb minutes after taking off her shoes. By that time, she called her husband, Alberto Torno, 66, to bring her to the nearest healthcare facility.
Hesitant with Cresencia's appeal, Alberto asked her not to go to the hospital for fear that doctors would tag her condition as COVID-19.
"I told her: don't go to the hospital; maybe you're just tired of working the whole day. They might include my wife in the list of COVID-19-positive cases," Alberto told republicasia in Filipino.
"Tomorrow, you'll be fine," said Alberto to his wife.
The next day, Cresencia was unable to move her feet.
More chaos
When they went to the hospital, they discovered Cresencia's lower body was paralyzed. Since they hardly make ends meet, Alberto finds it strenuous to sustain the medication for his wife.
In disbelief, Alberto told her not to visit the doctor again. After a few days, they went back to the sardines factory, but he had to stop working when Cresencia suffered a mild heart attack while in the factory.
Following the many absences he incurred due to his wife's condition, Alberto was relieved from work afterward. From then on, he started carrying the weight of Cresencia's sudden incapacity.
Bad Samaritans
Aside from the brunt they face during the woeful events that happened to Cresencia, their neighbors poke fun at their struggles by calling them "Kristo ng Baseco" (Christ of Baseco). Christ of Baseco, according to Alberto, is a joke for people who rely only on alms from strangers to survive the day.
"We just go out [of our compound] so she won't hear our neighbors saying bad and humiliating things about us because it might worsen her state," Alberto said.
Just recently, their electric supply was disconnected because they could not pay their pending balance amounting to P1,020.
"How can we pay that bill? We only rely on the mercy of other people to survive," said Cresencia.
Paralytic waiting for Messiah
With only a defective wheelchair, Alberto and Cresencia roam around the streets of Manila to ask for alms and food so they can return to their makeshift dwelling after three days to feed their dogs.
"We have no choice but to beg; I'll be lucky if I can make a side hustle. I can't just leave [Cresencia] alone, considering her condition. Sometimes, it takes us three days on the streets. We go to various feeding programs to have something to eat," Alberto said.
According to Alberto, he is not able to bring her wife back to the doctor for routine checkups despite the advice from her doctors because "medicine is a luxury" for them, and only the well-off can afford to buy medications.
Often, they stay in different churches in order to relieve their hunger.
They give to charity, too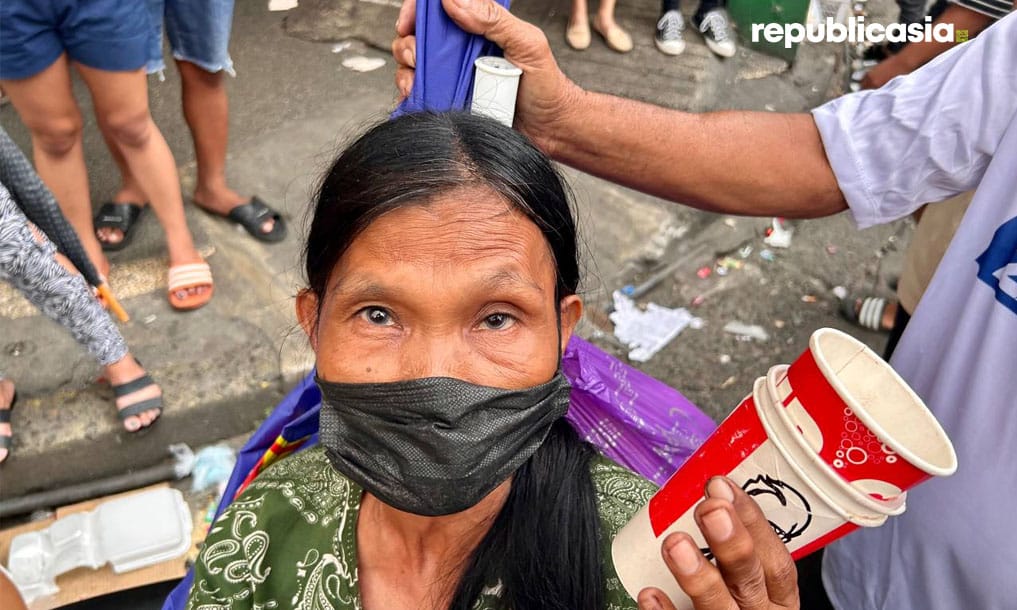 There are times, too, when Cresencia donates excess money from the alms given to them by strangers to church so that they can also help others in need.
"Sometimes, when we have extra money from the alms, I give it back to the Church because there are other people who need it more than us," she said.
Prior to her condition, Cresencia was diagnosed with cardiomegaly, or enlargement of the heart. Because of this, she was advised not to get pregnant in order to prolong her life, and since Alberto has one kid with his former partner, she instead helped Alberto raise his daughter, Sherley Torno.
But Sherley, the stepdaughter she called her own, now 40, left her and Alberto and began building her family away from them.
"Maybe it's because of the hardships of our life, she couldn't handle it anymore, so she left. I can't blame her either," Alberto said.
Sherley moved to Marawi in Mindanao, and since then, Alberto and Cresencia have never heard a single word from her.
Prodigal daughter is back
But in October 2022, when Alberto and Cresencia lost their house when a fire broke out in Baseco, Sherley contacted them again.
"She told me: Father, don't worry, I will send you money so you can get up from what happened," Alberto said.
Months had passed, and they never heard a thing from Sherley again – until now.
Alberto said she understands his daughter's situation since Sherley has a family to feed, too. That's why they only hope and pray for the Black Nazarene to give them more strength to survive every day.
"Father, don't leave us alone. That's our only plea. Please, take care of us because we can make ends meet despite the difficulties," Alberto said.
Please stay 'til Kingdom come
Cresencia likewise beseeched her stepdaughter Sherley to come home so she could see her while she's still alive. According to her, she can go through life despite the anguish brought by her condition as long as they are together.
"Sherley, my daughter, please come home. Even if you don't give the money you promised, just come home before I die," Cresencia said.
Alberto, however, begs Sherley to message them again, so she would know their current status because it seems they were thrown out of the streets when Sherley left.
When asked her prayers to the Black Nazarene, Cresencia hopes that a miracle will happen so she can go back to her feet and rebuild their lives again.
"I want to recover, Father. Please give me healing. I hope that a miracle will happen so that I can return to work," Cresencia said, raising her hands as the mass ended with a blessing.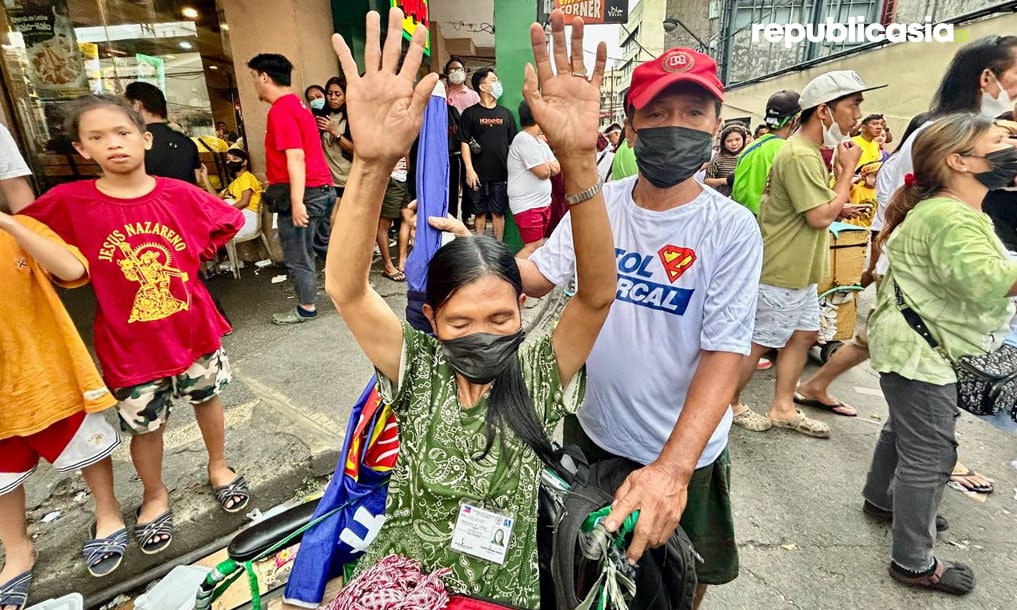 "No one will take care of my husband when I'm gone. Please, Father, heal me."

– Cresencia Torno, 54, a paralytic devotee of the Black Nazarene, hoping for one miracle.
RELATED STORIES:
1.2M devotees attended Nazareno rites
88k Nazareno devotees join 'Walk of Faith'
Banner Photo by Jericho Zafra