By Dave Leprozo
BAGUIO CITY – A traditional Ibaloy tribal ritual welcomed the inaugural flight of flag carrier Philippine Airlines (PAL) from Cebu to Baguio City last Friday.
PR 2230 is the first commercial flight to land in Loakan Airport after 30 years of hiatus.
Ibaloy, the predominant tribal group in Benguet, has a tradition of dancing "Tayaw" accompanied by the carabao horn "Tang-guyob." They perform this ritual to seek divine intervention from the Ibaloy tribe deities for a safe, happy, and wholesome travel.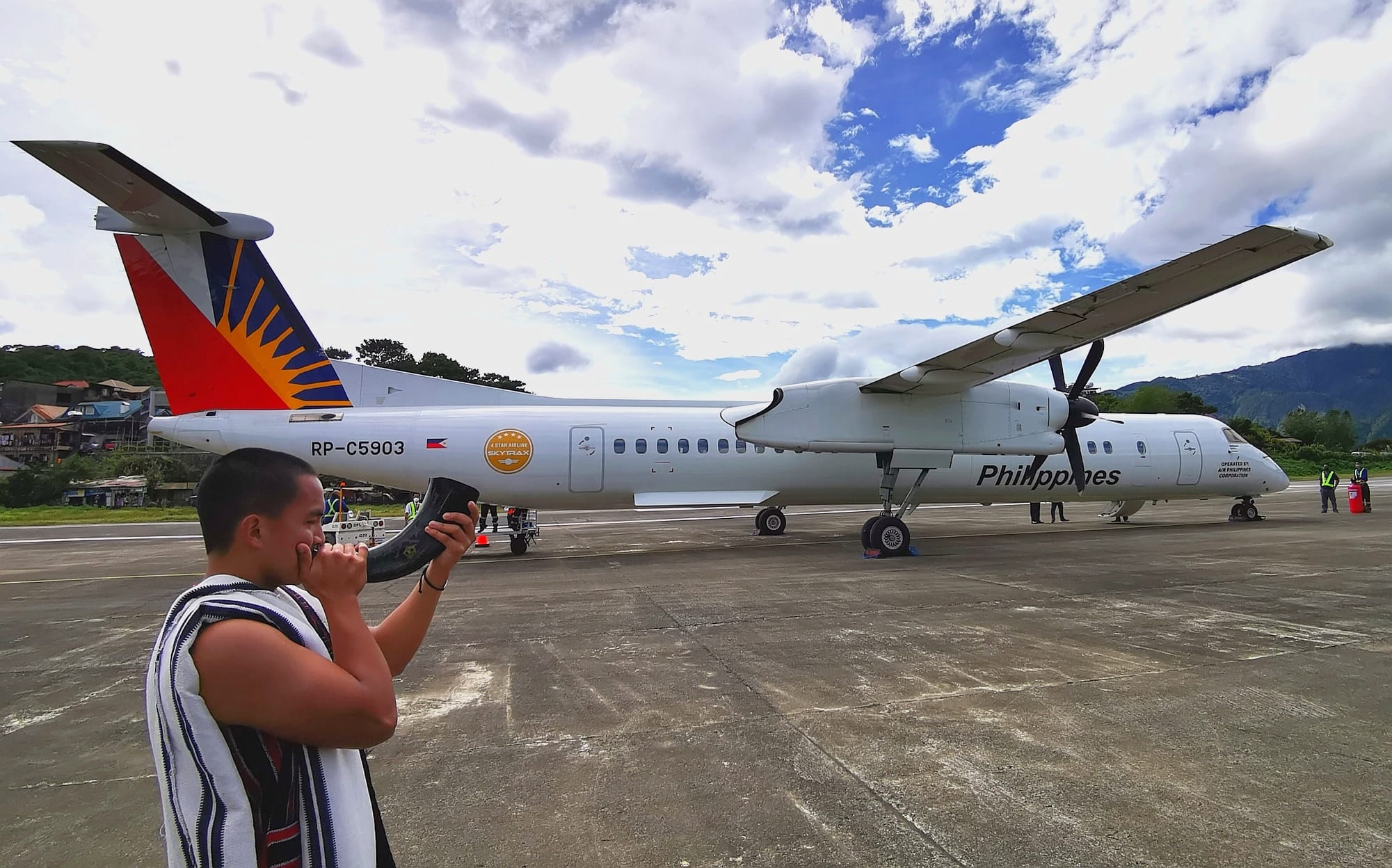 Julien Bisque Mataba and John Paul Pagnas Garcia from Chiva ni Doakan Cultural Troupe said they dedicated the Ibaloy's dance ritual to PAL's inaugural flight. "It is our prayer for safe air travels," Mataba said. Commercial flights resumed with the reopening of Loakan Airport.
Incidentally, the Ibaloy tribes are the original indigenous tribes who inhabited the land where Loakan Airport sits.
Baguio residents within the safety perimeter around airport, mostly migrants from other provinces, were most affected by the reopening of the Loakan Airport.
The runway, which used to be the road going to the city proper, will be closed one hour before and after every flight. Residents around the airport need to go around and take the longer detour the go to the city proper.
Aside from the Ibaloy dance, a water cannon salute also greeted the PR 2230 as it successfully landed at the Loakan Airport. Water cannon, the traditional aviation practice for airplanes, was also performed after a successful incoming arrival flight.
Sixty-eight passengers on board the historic flight were greeted by executives from the Civil Aviation Authority of the Philippines (CAAP), Philippine Airlines, Baguio City local government, and the Department of Tourism.
PAL President and COO Capt. Stanley K. Ng co-piloted himself the De Havilland Dash 8 Series 400 Next Generation aircraft..
He said he had to land from a different approach because of the dense fog that enveloped several areas of the Cordillera Administrative Region, including the Loakan Airport.
"Kaya po sa kabila natin kinuha. Ang headwind po nasa (approach number) 209. Mas mabilis sana tayo nakapasok sa (approach number) 07. Kaya lang gusto natin headwind po kaya inikot natin sa 209," Ng explained.
Ng said tourism is making a comeback, and he is very thankful that Loakan Airport is now open and can support tourists directly from Central Visayas to Northern and Central Luzon.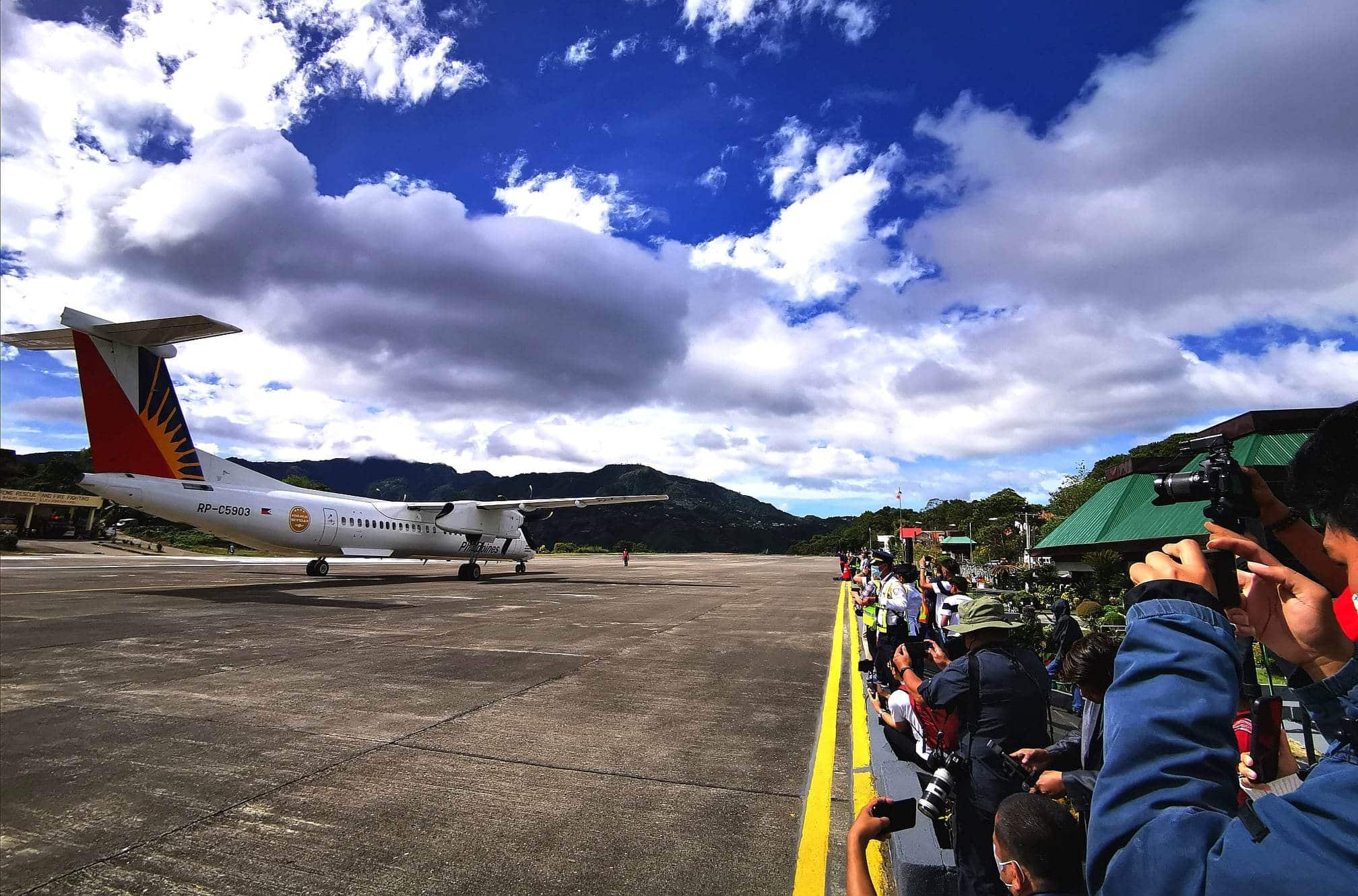 "We are happy to be serving Baguio and building up our Cebu Network Hub, so we can fly more Cebuanos and Cordillera residents during the holiday season and beyond into 2023," he added.
PAL flies four times weekly for the Cebu-Baguio-Cebu route.
The schedule is every Monday, Wednesday, Friday and Sunday. PR2230 will depart Mactan Airport at 8:50 am. PR 2231 flights, meanwhile, flies 11:10 am from Loakan airport.