THE COVID-19 crisis has reshaped how work is being done in many industries and businesses. Due to lockdowns, employees were forced to work from home.
But in the Philippines, the remote work set-up has already been institutionalized even before the pandemic hits.
Such an arrangement is recognized under the Republic Act 11165 or the Telecommuting Act, which was signed into law by former President Rodrigo Duterte on December 20, 2018.
Under the law, telecommuting is defined as work from an alternative workplace with the use of telecommunications and/or computer technologies.
It can be implemented in the private sector on a voluntary basis, subject to the terms and conditions that the employers and employees may mutually agree upon.
However, the law provides that minimum labor standards must still be complied which means that employees working remotely are entitled to overtime, rest days, and leave benefits.
"All telecommuting employees shall: receive a rate of pay, including overtime and night shift differential and other similar monetary benefits not lower than those provided applicable laws, and collective bargaining agreements," the law stated.
To further clarify the scope of the law, the Department of Labor and Employment (DOLE) has issued Department Order 237 or the "Revised Implementing Rules and Regulations of Telecommuting Act."
The new rules expand the concept of work-from-home (WFH), defining "alternative workplace" as any location where work through the use of telecommunication and/or technology, is performed at a location away from the principal's place of business of the employer, including but not limited to the employee's residence, co-working spaces or other spaces that allow for mobile working.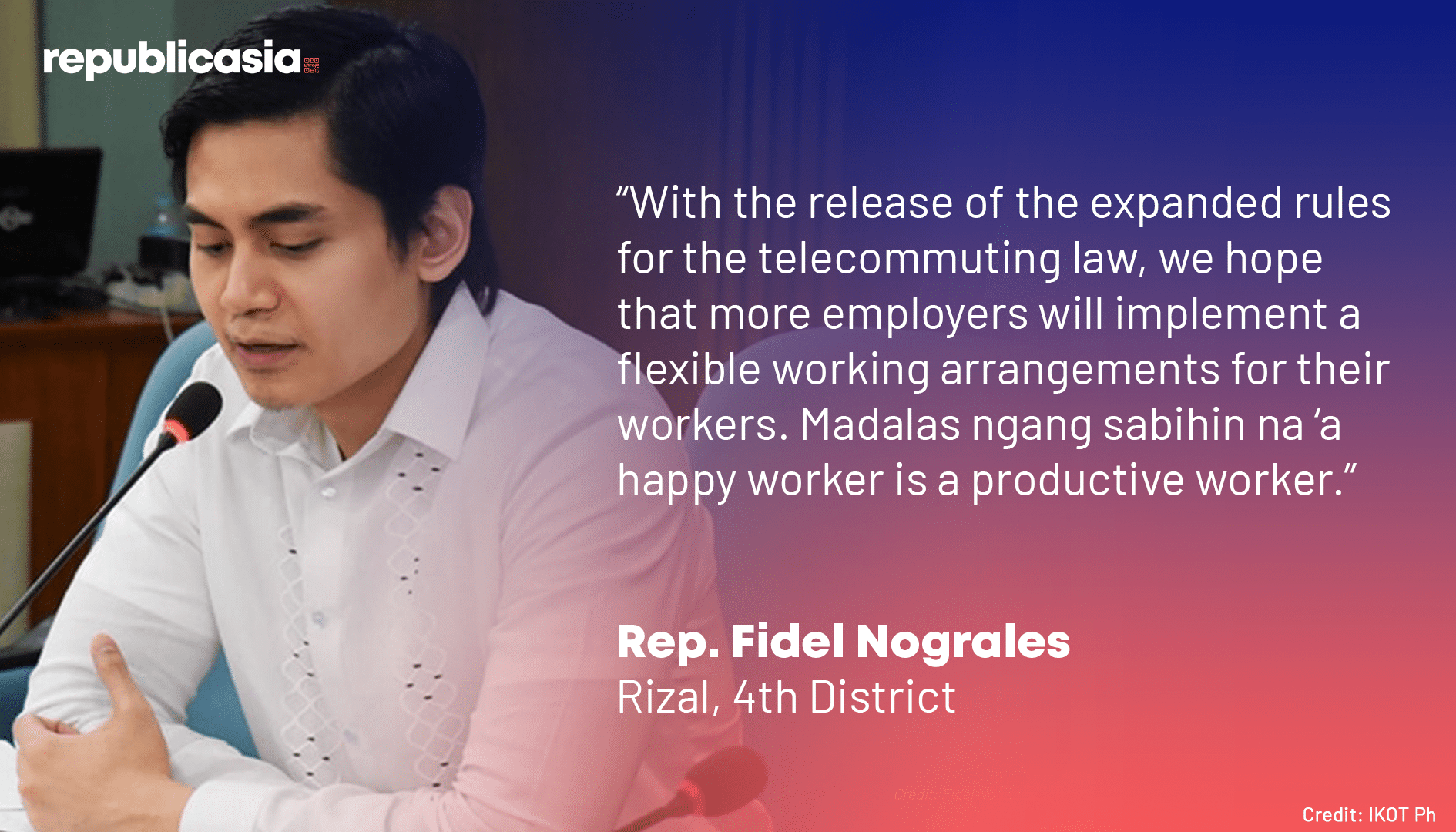 The work performed in an alternative workplace shall be considered as work performed in the regular workplace of the employer, it said.
The revised rules also provide that "all time that an employee is required to be on duty, and all time that an employee is permitted or suffered to work in the alternative workplace shall be counted as hours worked."
The order also states that "fair treatment" should be accorded to telecommuting employees and employees working at regular workplace.
"All telecommuting employees shall be covered by the same set of applicable rules or workplace policies, or by an existing CBA, if any," the new rules said.
The new rules also ensure that telecommuting workers are entitled to overtime and night differential, and have the same right as employees working on site when it comes to rest days, regular holidays, and special non-working days.
This kind of work arrangement is being pushed to be expanded to include the public or government sector.
Senate Bill No. 175, filed by Senator Francis Tolentino, seeks to amend Republic Act 11165.
The proposed measure also requires employers to provide their telecommuting employees with at least P1,000 monthly allowance to cover the additional utility costs from telecommuting.
"Working from home tends to increase utility consumption, particularly electricity…These additional expenses are out of the employee's own pockets and for the benefit of the employer's business," said Tolentino in his explanatory note.
The bill also provides a penal clause, with violators facing a fine of not more than P100,000.
Another bill pushing for tax incentives for employees on WFH or telecommuting programs was filed by Senator Win Gatchalian.
Senate Bill 1149 seeks to amend Republic Act 8424 or the "National Internal Revenue Code of 1997."
Under the proposed measure, employees shall be entitled to a deduction of P25 from their taxable income for every hour of service rendered under a WFH or telecommuting arrangement.
It also provides tax shield for allowances of up to P2,000 per month provided for employees to cover expenses necessary for WFH set-up
Likewise, the bill provides tax incentives to the employers who grant allowances to their employees to cover their expenses necessary for telecommuting.
"Employers shall be entitled to an additional 50 percent income tax deduction for allowances granted within the specified ceiling," the bill stated.
Gatchalian is pushing for increased adoption of remote work arrangements to ease traffic congestion in Metro Manila.