ON the first day of 2023, a new Low-Pressure Area has formed southeast of Mindanao. Good news is it is still far away, around 1,400 kilometers.
State weather forecasting agency Pagasa will monitor the track of the LPA.
But as of 4am today, it seems that the chance of the LPA developing into a typhoon is low.
"Magiging stationery din ito. So mababa ang chance na pumasok ito sa Philippine Area of Responsibility (PAR)," Benison Estereja said.
The trough or the extension of the LPA will affect eastern Visayas and Mindanao.
Probability of typhoon
January is the coolest month of the year, with a mean temperature of 25.5°C.
But there is a chance that a typhoon will occur for the month.
The weather pattern for the past years, Estereja said, is that a January typhoon usually forms southeast of Mindanao. Then it moves west towards the Caraga region, then to Eastern Visayas and other parts of the Visayas. There is also a probability of a January typhoon reaching southern Luzon.
If a January typhoon reaches PAR, it will be named "Amang."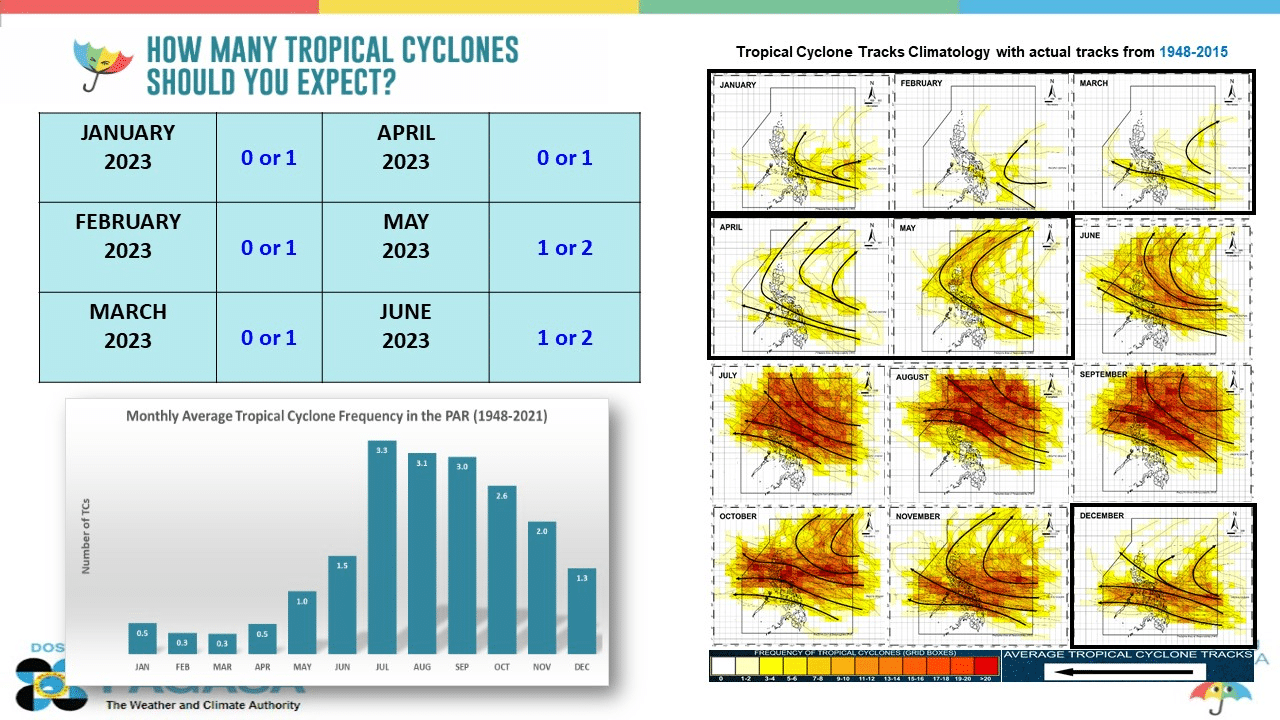 Weather forecast today
It will be cloudy and rainy in Cagayan Valley, Apayao, Kalinga, Mountain Province, Ifugao, Aurora and northern portion of Quezon. The Northeast Monsoon is bringing the clouds and rains.
Other parts of Cordillera — Abra and Benguet — and the Ilocos Region will have partly cloudy skies with light rains.
Calabarzon, Metro Manila and Bicol Region will likely experience fair weather.
However, don't take your chances. Bring your umbrellas and be ready with your other all-weather outfits as there is still a chance of scattered rain showers and thunderstorms.
In Eastern Visayas and Caraga region, there is a high chance it will be rainy at noon until evening as a result of the trough of the LPA.
Other parts of Visayas will also have partly cloudy skies. Rains will also be likely around noon until evening in Central Visayas, brought by localized thunderstorms.
Mindanao will be generally fair in the morning, probably a bit hot and humid in central portions of Mindanao.
Temperature check
Northeast Monsoon continues to bring the cool air in northern Philippines, but compared to the past week, today was a bit warmer.
Pagasa's official mercury dropped lowest in the mountains. At 8am today, Baguio registered the lowest temperature at 17.4°C, and Malaybalay in Bukidnon at 18.5°C
Tanay, Rizal was also cool at 19.5°C, along with Basco, Batanes at 19.8°C
Tuguegarao City in Cagayan is also at 20.2°C this morning.
Visayas dayalekto
Ang Eastern Visayas makasinati ug madag-umon na kalangitan inubanan sa mga katag-katag na mga pag-ulan, pagpangilat ug pagpanugdog tungod sa Trough sa LPA. Ang nahibiling bahin sa Visayas, Palawan apil na ang Kalayaan Islands, ug ang Occidental Mindoro makasinati ug panagsang mapanganuron ngadto na sa madag-umon nga kalangitan inubanan sa pat-ak pat-ak na pag-ulan ug pagpanugdug-kilat tungod sa Trough sa LPA / localized thunderstorms.
Kasarangan ngadto na sa kusog na hangin nga gikan sa Amihanang-silangan ang mupasulabi sa tibook Visayas, Palawan lakip na ang Kalayaan Islands, ug sa Occidental Mindoro diin ang kadagatan adunay kasarangan ngadto na sa baluron ang kahimtang.
Mindanao dayalekto
Ang Caraga makasinati sa mapanganuron nga kalangitan inubanan sa katag-katag nga pag ulan, kilat ug panalugdog tungod sa Trough of LPA. Possible ang flash floods o landslides tungod sa kasarangan ngadto sa usahay kusog nga pag-ulan. Ang ubang dapit sa Mindanao makasinati sa panalagsang pag dag-um ngadto na sa mapanganuron nga kalangitan inubanan sa patak-patak nga pag ulan, kilat ug panalugdog tungod sa Trough of LPA / Localized Thunderstorms. Kasarangan ngadto na sa kusog nga hangin ang magagikan sa amihanang silangang direksyon ug ang kadagatan kasarangan ngadto na sa kasarangan ang pagbalud.