EXCEPT for Metro Manila, central and western provinces of Luzon, the country is still expected to be wet today, January 25.
Although there is no typhoon, there may be flash floods or landslides in hazard areas due to the continuous moderate to heavy rains being experienced for the past weeks.
Effects of LPA trough
State weather forecasting agency Pagasa said the trough or the extension of the Low Pressure Area (LPA) south of Mindanao is dragging cloudy skies, rain showers and thunderstorms to:
Caraga
Davao
Eastern Visayas
Central Visayas
Pagasa estimates the LPA's latest track is at 575 kilometers east of Davao City.
Effects of amihan
Meanwhile, the Northeast Monsoon continue to bring cloudy skies with rains to northern Luzon and the eastern corridor:
Cagayan Valley
Cordillera Administration Region
Bicol Region
Aurora
Quezon
Localized thunderstorms
Pagasa said the rest of Mindanao and southern portion of Palawan are supposed to have generally fair weather. But there might be rain showers and thunderstorms in pockets due to localized thunderstorms.
Because of this, Pagasa said flash floods or landslides may still occur during "severe thunderstorms."
Metro Manila, rest of Luzon
Patrick del Mundo, Pagasa weather forecaster, said the capital and other provinces in west and central Luzon will experience generally fair weather. The effects of Northeast Monsoon may be felt, but only with very light rains.
Eastern towns of Mindoro Oriental, including Calapan, will have rains today, according to the data collated by windy.com.
Windy.com is a Czech-based climate data aggregator.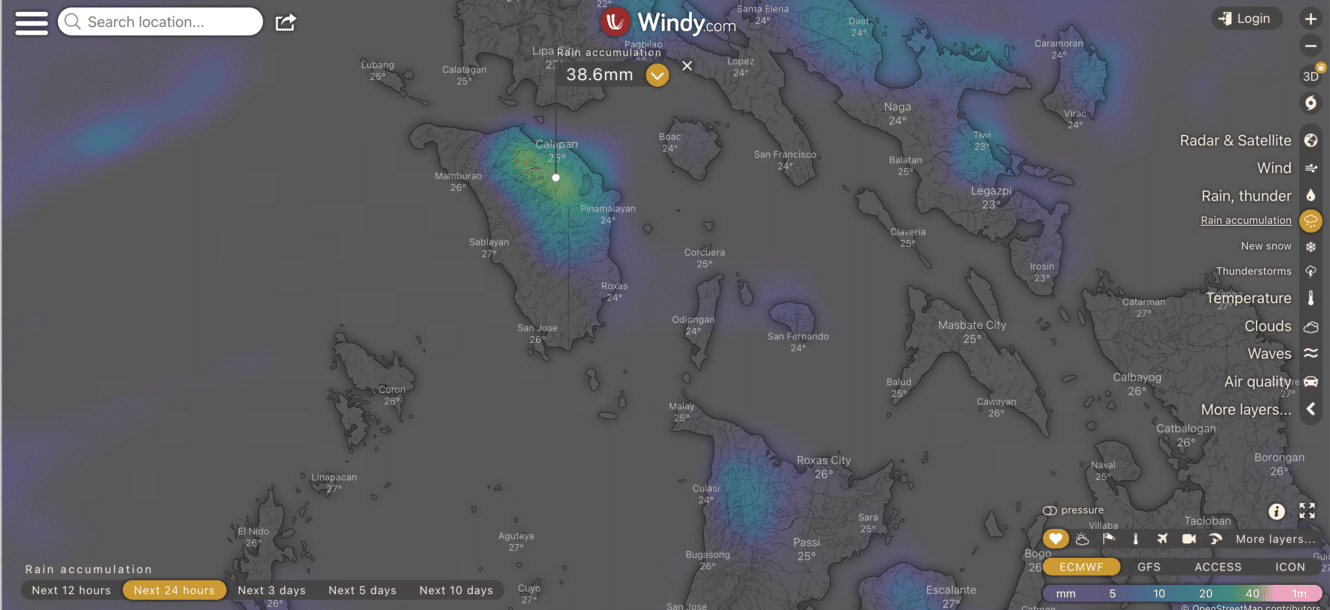 More rains in Bicol tomorrow
Del Mundo said another weather disturbance may form tomorrow — Shearline, the convergence of hold and cold winds that forms rain clouds.
With Shearline joining the fray of Northeast Monsoon and LPA, Bicol may experience more rains til weekend.
Temperature check
Luzon temperature
Baguio: 13-24°C
Tuguegarao City: 19-27°C
Tagaytay: 20-30°C
Metro Manila: 23-32°C
Laoag City: 24-29°C
Legazpi City: 25-31°C
Puerto Princesa: 25-30°C
Kalayaan Islands: 26-31°C
Visayas and mindanao temperature
Tacloban: 24-30°C
Cebu: 24-28°C
Iloilo: 26-30°C
Cagayan de Oro: 23-28°C
Davao: 24-30°C
Zamboanga: 24-32°C
Gale warning
It is still not a good idea to go out to sea for fishermen and other boatsmen in small vessels in some areas in Luzon and Visayas today.
Pagasa said sea conditions are still rough to very rough in north and eastern Luzon. Waves could go as high as 5.5 meters or equivalent to a two-storey building.
Waves in eastern seaboard of Visayas could go as high as 4.5 meters or equivalent to more than a one-storey building.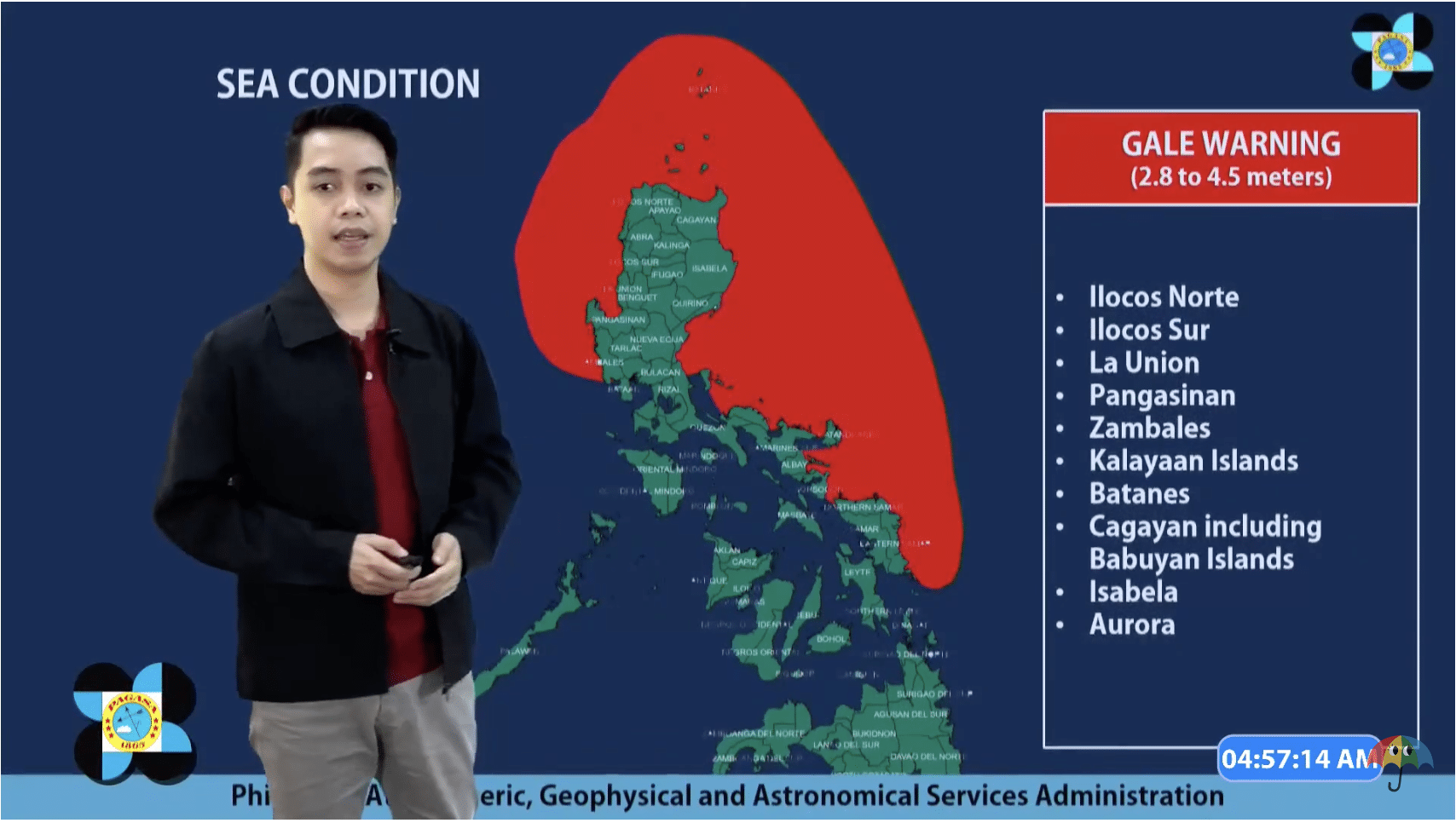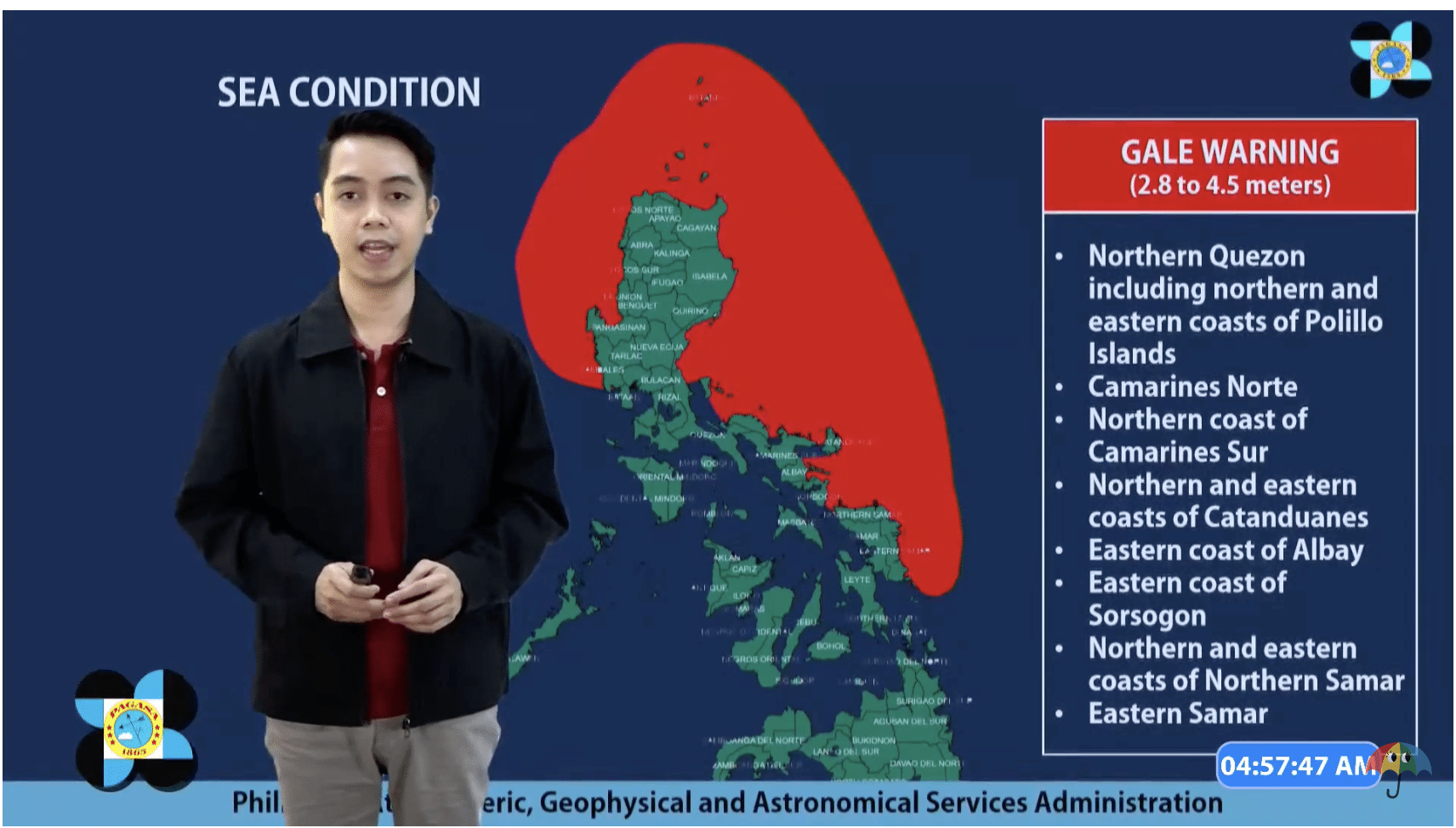 Weather Forecast in a Glance
| Place | Weather Condition | Caused By | Impacts |
| --- | --- | --- | --- |
| Caraga, Davao Region, and Eastern and Central Visayas | Cloudy skies with scattered rainshowers and thunderstorms | LPA | Possible flash floods or landslides due to moderate to at times heavy rains |
| Cagayan Valley, Cordillera Administrative Region, Bicol Region, Aurora, and Quezon | Cloudy skies with rains | Northeast Monsoon | Possible flash floods or landslides due to moderate to at times heavy rains |
| The rest of Mindanao and the southern portion of Palawan | Partly cloudy to cloudy skies with isolated rainshowers or thunderstorms | Localized Thunderstorms | Possible flash floods or landslides during severe thunderstorms |
| Metro Manila and the rest of Luzon and Visayas | Partly cloudy to cloudy skies with light rains | Northeast Monsoon | No Significant impact |
Forecast Wind and Coastal Water Condition
| Place | Speed | Direction | Coastal Water |
| --- | --- | --- | --- |
| Northern and Central Luzon and the eastern sections of Southern Luzon and Visayas | Moderate to Strong | Northeast | Moderate to Rough / (2.5 to 5.0 meters) |
| The eastern section of Mindanao and the rest of Luzon and Visayas | Moderate to Strong | Northeast | Moderate to Rough / (1.2 to 3.5 meters) |
| The rest of Mindanao | Light to Moderate | Northeast to North | Slight to Moderate / (0.6 to 2.5 meters) |
Tides and Astronomical Information
sunrise
6:25 AM
sunset
5:51 PM
moonrise
9:16 AM
moonset
9:26 PM
illumination
18%
Tidal Predictions for Manila Bay (m)
(Courtesy of NAMRIA)
Low
-0.21
Low
0.26
Low
–
High
0.28