THE joy of seeing your fur baby smile is one of the priceless feelings of a fur parent. Not only that, it gives them the assurance that they are being cared for and loved by their "hoomans."
But with the continuous increase of prices on essential commodities, including theirs, it's sometimes grueling to think how you will budget your funds while giving them the best treatment they deserve.
Don't fret. Here are some of the online budol finds you may want to check out for your fur babies:
Grooming set
What's the goal of a perfect fur-enthood without a good set of proper hygiene?

Proper sanitary measures remain the top-tier step for dogs to avoid diseases. This grooming set comes with one dog shampoo with conditioner, anti-sneeze cologne, cooling powder for tick and flea treatment and prevention, coat shine serum, ointment for wounds, and a bar of herbal soap. 6-in-1 grooming set for only P379? Yay or nay?
Dog treats
Everyone who owns a dog is well aware of the value of treats. This dog treat is perfect for fur parents with a tight budget who want to give their dogs some healthy, salt-free, low-fat treats after training.
Automatic drinking fountain


Have you ever worried that your pets might be drinking contaminated water or uncertain whether pests have infiltrated the water in your pet's bowl? Fear not. This water fountain will automatically start running water when the dog is nearby. It will filter for 30 seconds when the dog is two to three meters away from the sensor range and then go into automatic standby mode after.
Portable paw cleaner
As pawrents, dogs tend to be hyper and active outside. And it's a day-to-day struggle for fur parents to clean their paws because they may feel uncomfortable with it.
But this paw cleaner is a steal for dog owners as it easily cleans your fur baby's paws. It also comes with a complimentary towel—a perfect combo for playful doggos.
Pet wipes
Not all dogs are mad at bad people. Sometimes it's water that they hate the most.
The solution? Pet wipes.
For only P45 pesos, you can now get 80-piece wet wipes to use for your dogs, and it's alcohol-free, so your dogs won't get allergic reactions. Cheap yet a life-saver, right? 
Dog beds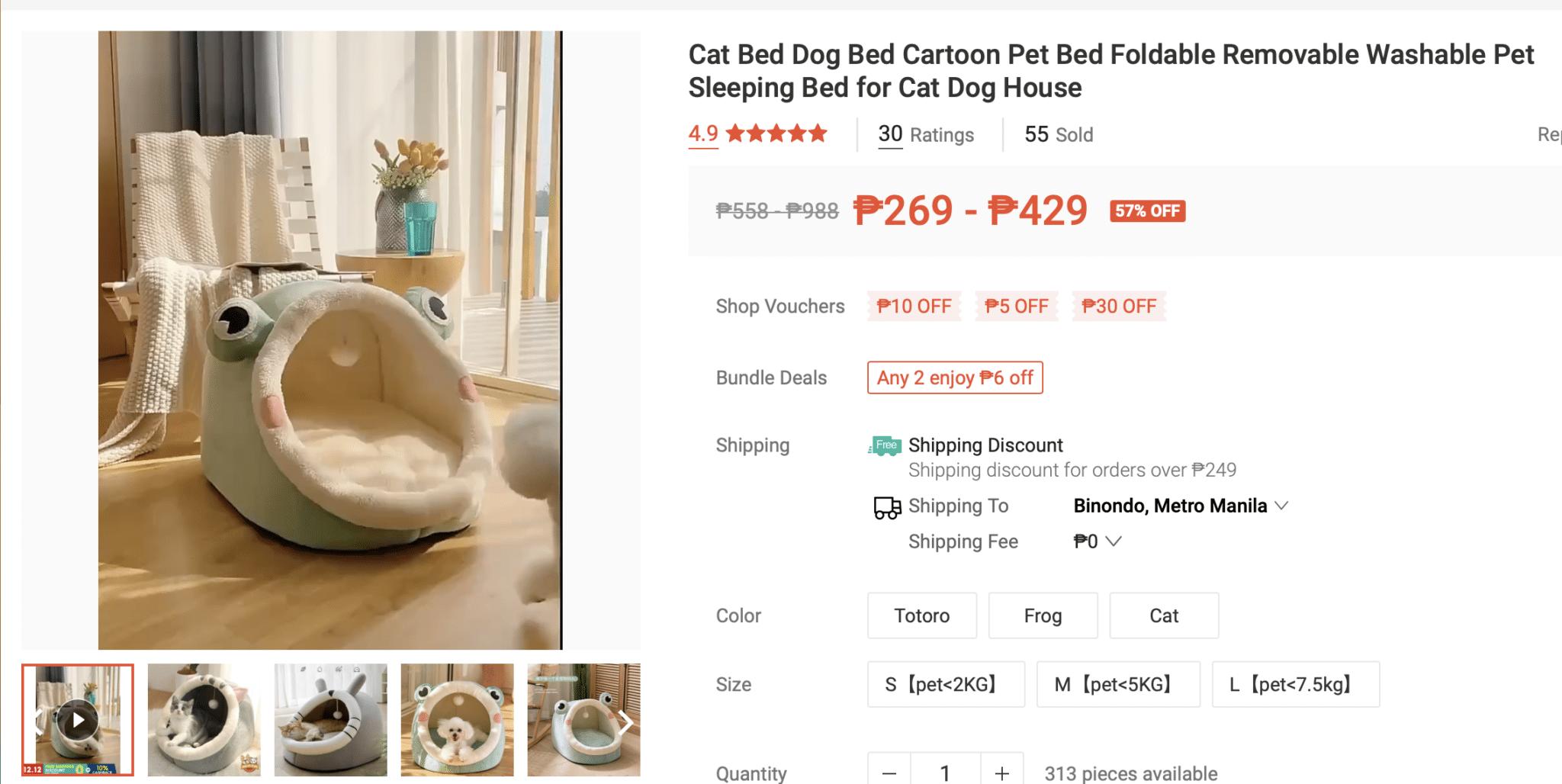 Of course, your fur babies will not sleep soundly without a comfortable and cozy bed. For only P269-P469, you can make your dogs feel at home with this dog bed house.
Have you checked out what's left in your cart?
Don't worry. It's a few days left before payday. Go check it out, your fur babies are waiting.