By Armando Fenequito
DAVAO CITY — The Securities and Exchange Commission (SEC) has advised the public "not to invest" or "to stop investing" in Lele Gold Farm/ Lele Gold Coin/ Gold Farm.
Many Lele Gold investors and recruiters came from Davao and Soccsksargen regions, Cotabato City and Maguindanao, the SEC Enforcement and Investor Protection Department (EIPD) said .
The SEC said the operation is a "Ponzi-scheme," a criminal offense under the Security Regulation Code.
A Ponzi scheme is an investment fraud that pays existing investors with funds collected from new investors.
Such schemes often deliver payouts at the start to please investors and encourage them to invite more people to join.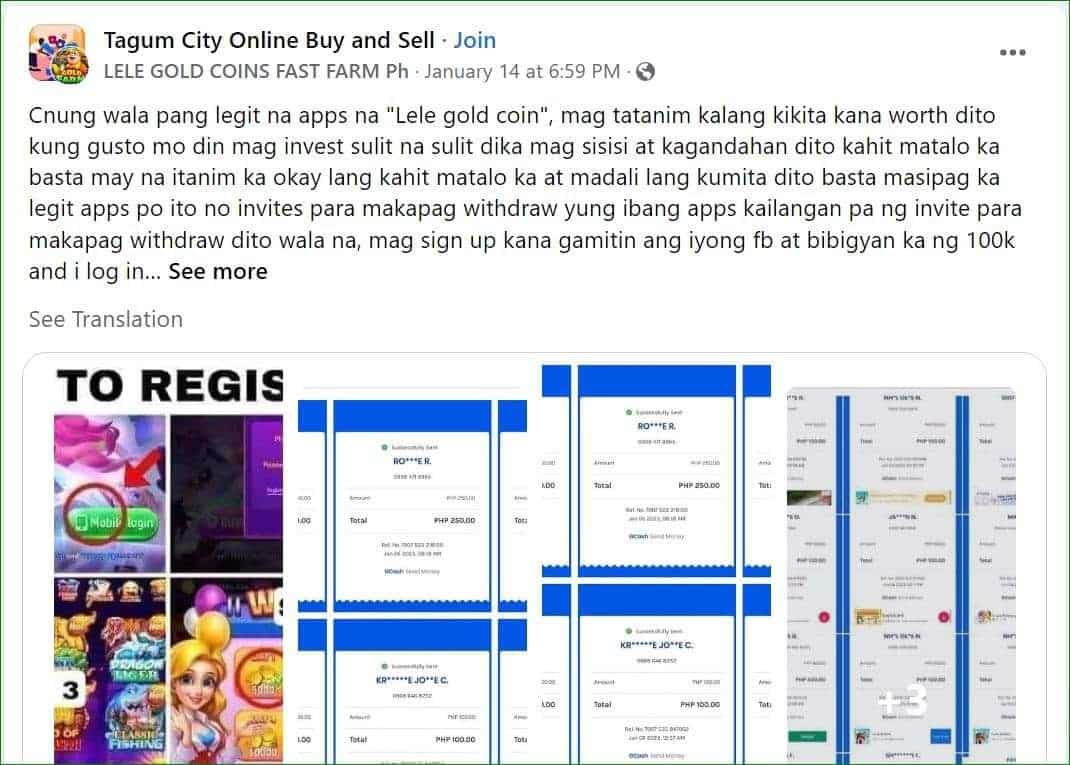 What's the modus?
Certain Individuals or groups claimed they are representatives of the Lele Gold Farm. Sometimes they are from Lele Gold Coin; other times, it's Gold Farm. Lele Farms are mobile applications which can be downloaded at Google PlayStore.
They post in group pages in social media, that they can play games and have extra income at the same time. Their investment products are "farm lands."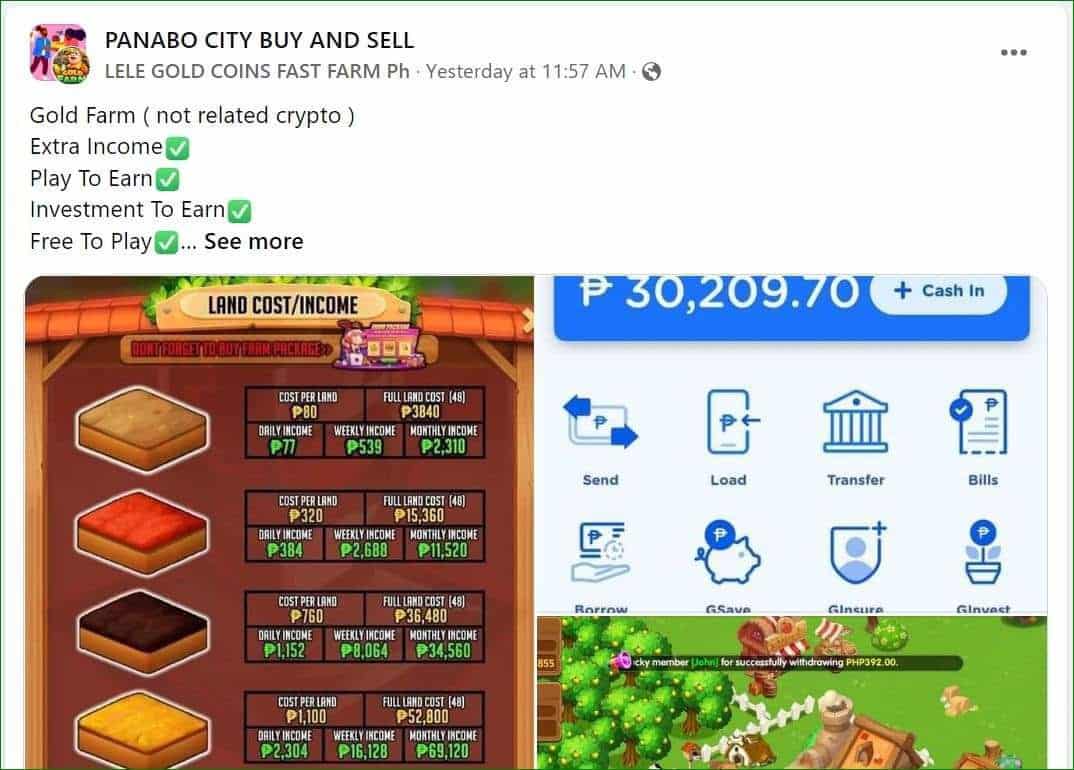 The investors are required to download and register first, and then made to choose among the six investment plans:
Php 3,840
Php 15,360
Php 36,480
Php 52,800
Php 100,800
Php 288,000
Depending on the amount invested, earnings promised range from Php 539 to P11,520 per week. On a monthly basis, it can be Php 2,310 up to P345,600.
Interestintly, the scammers issue an "investment contract" to show proof of investment. The contract states the investors' money will be placed in a "common enterprise." The public is told they can reap profits from the efforts of others.
What makes it illegal?
All entities offering investment products must be duly registered with the SEC and that they have the appropriate registration and license to sell securities to the public.
In the case of Lee Gold Farm, it is neither registered as a corporation nor as a partnership. It also has no license or authority to "solicit, accept or take" investments/ placements from the public. It is also not even authorized to issue investment contracts and other forms of securities.
"The offering and selling of securities in the form of investment contracts using the 'Ponzi Scheme' which is fraudulent and unsustainable, is NOT a registrable security," the SEC said in a statement.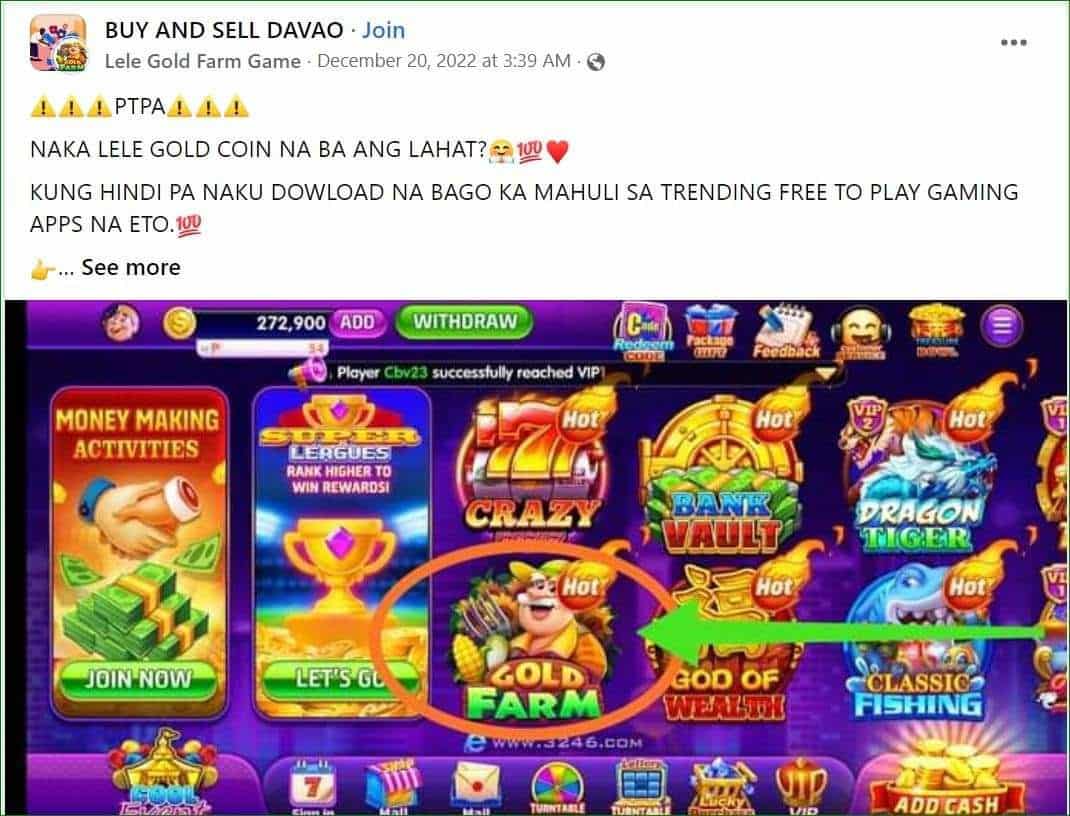 The Commission stressed it will not issue a License to Sell Securities to the Public to persons or entities that are engaged in Ponzi Scheme.
Are you a salesman, an upline, recruiter, endorser of Lele Gold? Read!
"In view thereof, the public is hereby advised NOT TO INVEST or to STOP INVESTING in the investment scheme being offered by LELE GOLD FARM/LELE GOLD COIN/GOLD FARM, and its representatives," the SEC said.
Anyone who act as salesmen, brokers, dealers or agents, representatives, promoters, recruiters, uplines, influencers, endorsers, abetters and enablers of Lele Gold may be arrested, the SEC said.
Soliciting investments or recruiting investors through the internet of illegal investment schemes are criminal offenses under Section 28 of the SRC. The court may impose a maximum fine of P5 million or imprisonment of 21 years or both against investment scammers.
The SEC also said the names of all those involved will be reported to the Bureau of Internal Revenue, in case of possible taxation violations.
The SEC- EIPD is also encouraging the local government units to practice due diligence before approving the permits of companies in their respective locality.
photo: Screenshot of the mobile app from the SEC