By Dave Leprozo Jr.
ATOK, BENGUET – Tourists fought the early morning December Solstice blues to witness the picturesque sunrise here at the mountain town of Atok.
It was a struggle for many to wake up today as the temperature dropped to 7°C around 5am, if we rely on a mobile phone weather app.
State weather bureau Pagasa said they have no station in Atok, Benguet, and could not confirm the exact temperature monitored by residents.
But it said this morning was pretty colder indeed in that part of northern Luzon. Benguet registered 12.4°C around 4:50 am, while La Trinidad, Benguet was a tad warmer at 12.6°.
Atok residents found it unusual to find many tourists today, one day before Christmas.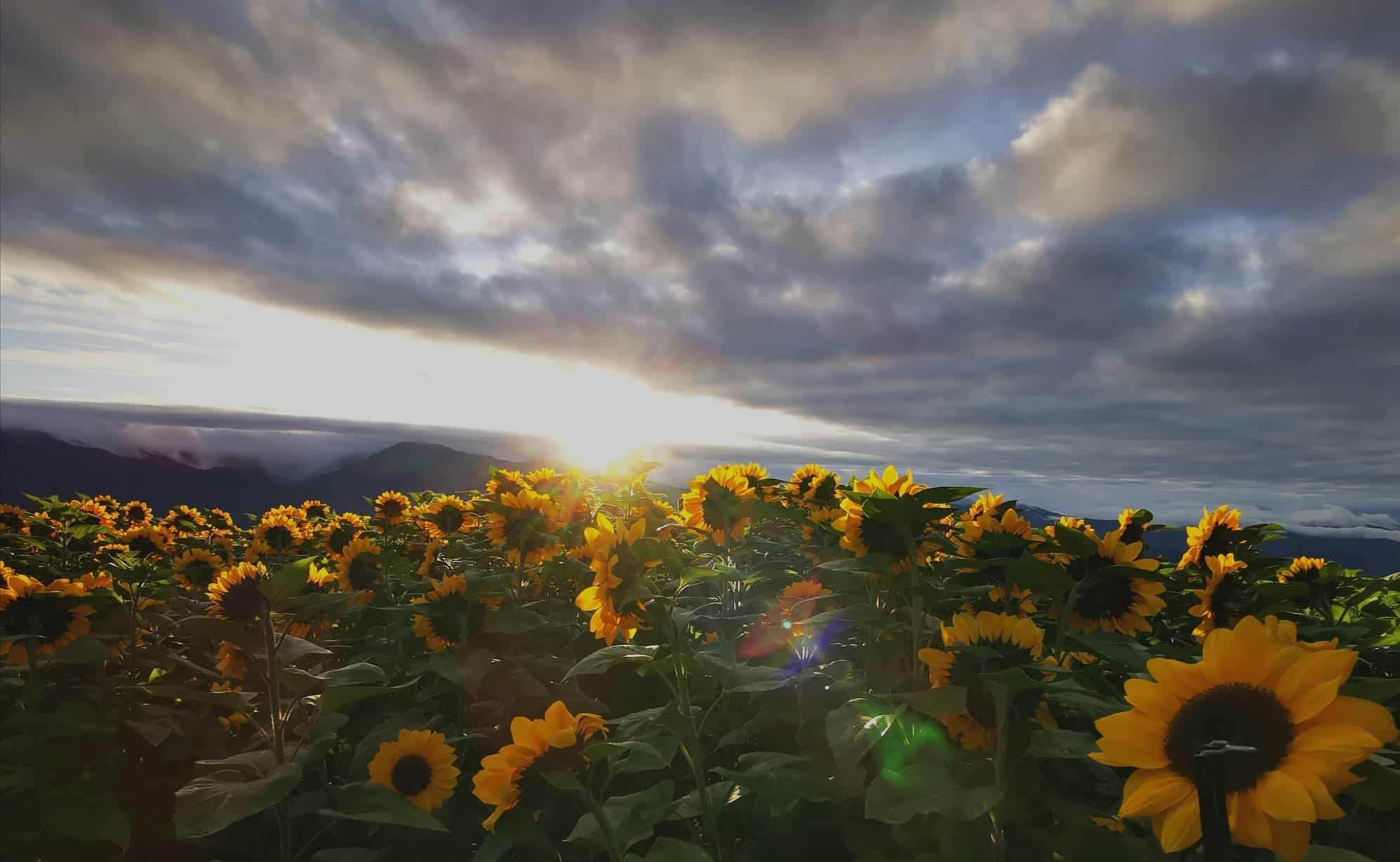 Tourists escape from Baguio monster traffic
The Logarto sisters, who came all the way from Taguig, said they were happy to leave behind the maddening crowds in Baguio.
They had to travel an additional two hours to get to Atok from Baguio City.
"First time maka-experience ng 7 degrees, and zero visibility na," Sunshine Logarto shared.
Northern Blossoms
At the Northern Blossoms Flower Farm, in Sitio Sayangan, as many as 500 tourists registered since yesterday. This morning, they excitedly took photos of the sunrise, the flowers and the scenic mountains like Mt. Pulag. All wore thicker jackets, many with hoodies or bonnets.
To accommodate tourists, the Northern Blossoms expanded its two-hectare floral gardens.
Today, sunflowers were in full bloom. Other flower varieties featured on the farm are snapdragon, calendula, alstromeria, cabbage roses, statice, hydrangea, Malaysian mums, Dusty Miller and roses.
But the flower farm banned tourists from picking flowers.
Many also went to a greenhouse garden of cactus and succulents.
For the Logarto siblings, it was worth the trouble to go further the mountainside of Cordilleras.
"Heaven!" Joanna Logarto exclaimed.
"Stress relief," Leica added.
The management of Northern Blossoms said with the influx of tourists, they are planning to introduce more flower varieties and walking-friendly walking trails soon.
Atok, Benguet
Atok is a fourth class municipality with less than 20,000 people as per the 2020 census.Its highest point is 8,914 ft above sea level.
It is 49 kilometers away from Baguio City, and 299 kilometers away from Manila.
In December, the average temperature is around 11-27°C, according to Meteoblue, a Swiss meteorological service that monitors weather in the mountains.
Aside from the Northern Blossoms Flower Park, other tourist attractions in Atok are Mt. Timbak, Sakura Park, Lourdes Grotto, and the Halsema Highway Highest Point.